Summary
Dunkin' Brands' stock was down 12% on Thursday due to issuing lackluster full-year EPS guidance and fears about light comparable store sales.
The stock had a moderately high P/E ratio, which was mostly kept aloft by strong growth. Therefore, sales growth fears caused investors to panic.
The stock is now at an attractive price with a lower P/E ratio and steady growth going forward.
I rate Dunkin' Brands a Buy on the drop.
Introduction
This article is my 15th installment in a segment called "Buy on the Drop?" where I choose a stock that recently experienced a large decrease in price and give a recommendation on whether investors should "Buy on the Drop" or not. This is a recurring segment, so if you enjoy the article, "Follow" me to see more! You can read about my previous installment discussing Canadian Solar (NASDAQ:CSIQ) here.
Dunkin' Takes a Hit
Dunkin' Brands (NASDAQ:DNKN) was down big on Thursday, after presenting at an Investor Day with content that left the market disappointed. More than $500 million worth of disappointment, to be exact! This was the dollar amount that was shaved off DNKN's market capitalization by Thursday's 12% price drop. The shares closed at $43.00, which marks a 22% drop over the past three months, and which brings the stock's year-to-date percentage gain to less than 1%.
Evidently, investors were disappointed by the company's Investor Day, which has caused the stock price to retreat significantly. Is DNKN attractive at this price level? Let's find out!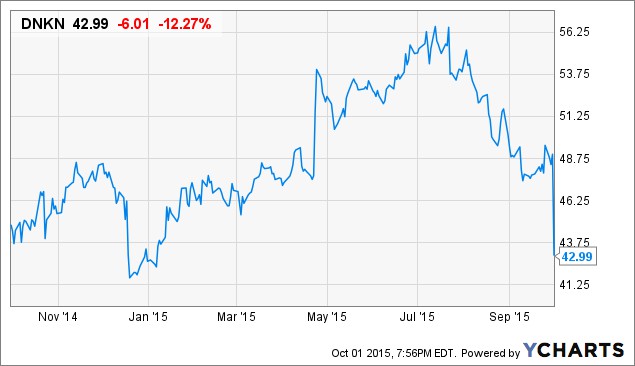 The Drop
Dunkin's Investor Day presentation appears to be the most likely catalyst for Thursday's big losses. There are three reasons that led to the sell-off:
Full-year 2015 EPS guidance missed consensus estimates.
Comparable store sales tracking light.
Fears that Hurricane Joaquin will cause a slowdown in revenue.
The company guided for full-year 2015 EPS of between $1.87 and $1.91, which missed the consensus estimate of $1.92. That might not seem like much of a miss, but investors hold DNKN to a high standard due to its premium valuation. With the bar set high, it was very easy for Dunkin' to disappoint. The EPS miss is likely a symptom of the company's light comparable store sales guidance for 2015, which is another culprit for Thursday's beating.
Dunkin's Investor Day presentation guided for comps of between 1% and 3% for both Dunkin' Donuts and Baskin-Robbins in the U.S. The low growth figures indicate that revenue growth has been coming from additional store openings, and not from organic comps growth. This probably did not satisfy the "growth story" narrative that the market has attached to DNKN, which, in turn, caused the stock to sell off.
Lastly, the approach of Hurricane Joaquin towards the East Coast threatens to further depress comps and revenue growth for the end of the calendar year. Dunkin's stores are highly concentrated in the northeast, and there's nothing like a hurricane to deter people from leaving their houses and spending money. Investors are worried that the company's revenues and comps will be dented by the coming storm - as has happened in the past with hurricanes Irene and Sandy.
Just a side note, for a bit of inconsequential, anecdotal evidence, I can personally confirm that going to Dunkin' Donuts or Baskin-Robbins was the last thing on my mind both during and in the immediate aftermath of hurricanes I've experienced. And that's despite the fact that there is a Dunkin' Donuts-Baskin-Robbins right around the corner from my house.
In addition to these three reasons, Yahoo Finance reports that short interest in DNKN is about 10.6% of the float. High short interest can lead to more pronounced volatility when stocks experience losses. It is probable that all of these factors contributed to the bloodshed that the shares experienced on Thursday. However, I don't see any of these things significantly affecting the future for Dunkin' Brands, and I believe the sell-off is overdone and presents a good buying opportunity.
A Strong Buy on the Drop
While reading through Dunkin's Investor Day presentation, three things of varying importance occurred to me:
Wow, this thing is really long.
I'm really hungry.
I like where this company is headed.
In this section, I will first address the three reasons behind the stock's woes, and then add on some commentary in regard to my bull thesis.
To start out, while Dunkin's 2015 expected EPS might have missed consensus estimates (and by a very slim margin), the company has consistently managed to record impressive earnings growth since its IPO.
While EPS growth is slowing, it is still very robust and has bright future prospects. According to Dunkin's Investor Day presentation, the company plans to open an additional 9000+ stores in the U.S., an additional 4,000 stores in Asia & Australia, and more in other countries. This is a promising development, considering that 81% of Dunkin's 2014 revenue is derived from the U.S. market; diversifying internationally could unlock lucrative opportunities.
Particularly, only 4% of 2014 revenue came from the Asia & Australia region, where the company currently has just 5,800 stores. This area of the world could be a potential growth driver, as Dunkin' plans to boost the number of stores in the region to 9,500. Additional opportunities for growth in Europe, the Americas (North and South America, excluding the U.S.) and the Middle East should sustain the company for years to come.
In regards to low comps guidance for U.S. stores in 2015, I happen to think that comps growth of between 1% and 3% isn't all that bad. Dunkin's products are highly commoditized (coffee, donuts, ice cream, etc.), and branding and advertising is the company's only way to distinguish itself. With companies like Starbucks (NASDAQ:SBUX), Yum! Brands (NYSE:YUM) and countless others all competing in the same market, the comps growth Dunkin' has recorded actually becomes pretty impressive. The company has managed to maintain market share and relevance in a saturated market, and I don't think comps in the low-single digits warrant a sell-off.
Additionally, growing revenue by opening new stores is a strategy that will pay off big for the company, as so much of the U.S. remains cut off from the brand's franchises. While comps growth might be low, most chains manufacture revenue growth by opening new locations, not by increasing in-store sales. Accomplishing both would be great, but in Dunkin's market, relying on comps growth is a weak strategy. Dunkin' Donuts and Baskin-Robbins are very popular brands that are sure to garner interest from potential franchisees in other parts of the U.S. into which the company wants to expand.
The third reason likely behind the stock's drop was the approach of Hurricane Joaquin, which the market expects will cause both revenue growth and comps growth for 2015 to miss Dunkin's targets. Store sales were affected by hurricanes that hit the northeast in the past, and Joaquin is shaping up to be a doozy (I live in Maryland, and we are currently in a state of emergency. Fun!) Aside from ruining my weekend movie plans to see The Martian, the storm threatens to slash Dunkin's revenues for Q3, which I think is the perfect example of a short-term development that should in no way affect the stock price in a perfect world. The approaching hurricane is a perfect example of how events that are inconsequential in the long run can cause short-term panic in the markets.
Depressed revenue for a quarter due to the hurricane fallout will not materially change Dunkin' Brands as a company, as the past has shown. EPS growth and comps growth also do not qualify as rational reasons for the stock to sell off. From my research, I have come to the conclusion that Dunkin's fundamentals are still very much intact, and that the current price level presents a great entry point for investors to go long DNKN.
But simply discrediting the rationale behind a stock's drop doesn't constitute a thesis! So, here are the reasons why I'm bullish.
Dunkin' has been touted as a growth stock, which justifies its supposedly lofty valuation with a trailing P/E of 25. However, one of the most important, if not the most important, rules of using P/E ratio and PEG ratio (price-to-earnings growth) is that they are only useful when comparing companies in the same industry. So, let's see how DNKN stacks up when compared to these other companies:
(Yahoo Finance)
Two things stand out from this data immediately:
SBUX is not a good investment, based on valuation.
DNKN is, at worst, fairly valued.
The PEG ratio indicates that DNKN is moderately undervalued after Thursday's drop, but the PEG ratio is only as good as the estimated earnings growth it's based on, and I think the market is underestimating Dunkin's growth potential. With much of the U.S. market untapped and the ongoing international expansion, I think the company can surpass earnings estimates in the future. In its Investor Day presentation, Dunkin' estimates that in the coming five years, it will grow U.S. comps at a rate of between 2% and 4% and build new U.S. stores at a rate between 4% and 6%.
In addition to being a high-growth quick-service restaurant company, Dunkin' is committed to returning capital to shareholders. Since its IPO in 2011, the company has returned $1.4 billion to shareholders - $300 million through dividends, and $1.1 billion through share buybacks. At $43 a share, the dividend yield is now about 2.5%, which is higher than that of YUM and substantially higher than that of SBUX.
Of course, DNKN does come with some risk, as the company has a substantial debt load on its balance sheet. As of its latest quarterly report, Dunkin' has $329 million in cash & equivalents and $2.47 billion in long-term debt. The company has used this debt to fuel its growth rather than dilute shareholders' stakes, which further shows its commitment to maintaining and boosting shareholder value. But how much debt is too much? The company sports a current ratio (current assets divided by current liabilities) of 1.78, which indicates no liquidity issues. Compared to its competitors, Dunkin' is actually is a very stable short-term position: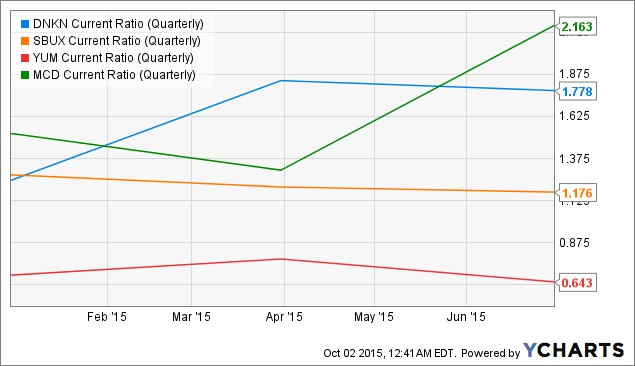 Copious long-term debt is never a good thing, but companies are careful to ensure that they don't take on enough to sink the ship. Dunkin's management has decided that financing its operations with debt offerings generates benefit that is greater than the interest payable to its creditors. For a fast-growing company like Dunkin', I think management has made the correct call. There are only three viable ways to finance operations for a public company:
Equity offering
With cash from operations
Debt
Dunkin' doesn't want to dilute its shares, especially not after repurchasing so many shares. An equity offering would be a great way to lose money and anger investors. No-go.
Financing operations through cash from operations is a very organic strategy for growing a business. However, this does not work for companies that are aggressively trying to expand, but are restricted by insufficient cash flow. Dunkin' is one such company, and so, waiting for cash from operations to become substantial and sufficient would have taken far too long. Besides, cash from operations is used for dividends and share repurchases. Much better for investors!
That leaves only debt. Debt is a scary term and probably immediately evokes a negative reaction, but it is a powerful tool that companies can utilize to grow operations rapidly. The main consideration that must be made before taking out a loan is whether the cash received from that loan will generate benefits that outweigh the interest expenses.
A big pile of debt is negative because it means there's also a big pile of interest payments, but it must be viewed in context. I think that Dunkin's decision to take on debt in order to finance its expansion plans has paid off handsomely. Maybe the company has a ton of long-term debt to deal with, but debt is usually only threatening if the business is suffering. An example that comes to mind is Advanced Micro Devices (NASDAQ:AMD), a semiconductor company whose revenues and earnings are declining and whose huge pile of debt is literally choking it. AMD took out loans and couldn't put the capital to good use. Dunkin' has done the opposite.
Many companies in the quick-service restaurant industry are highly leveraged, and Dunkin' is no different. These companies are in minimal danger as long as they continue to succeed and generate cash. Dunkin's debt won't become a problem unless its business begins to underperform, and I don't see this happening any time soon.
Closing Thoughts
I think the market has definitely overreacted to Dunkin's Investor Day revelations, and the 12% drop represents a good buying opportunity for investors to either enter the stock or average down. However, I recommend waiting at least a week before buying, as the stock could fall further. The company has solid fundamentals, is committed to shareholders returns and has bright future growth prospects. I rate Dunkin' Brands a Buy on the drop.
More