Early this week, USD/JPY was in a bullish breakout from a consolidation pattern. Since then, price has rallied to test the December high at 118.65. Let's take a look at the intra-session 1H chart.

USD/JPY 1H Chart 1/4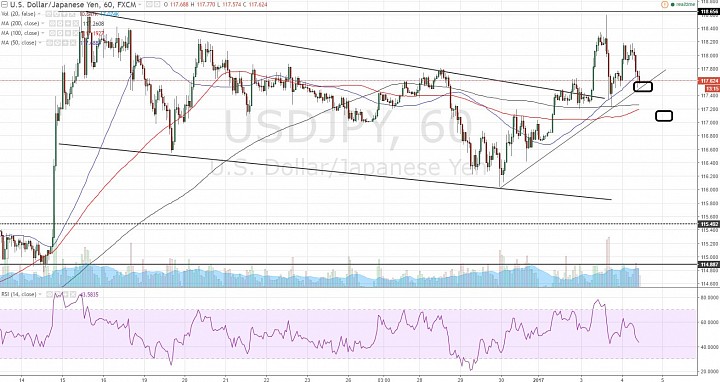 (click to enlarge)
Pullback Swings:
- Since failing to break 118.65 USD/JPY has essentially pulled back from the breakout.
- So far, the first pullback respected a common support at 117.20.
- This means, so far, USD/JPY's bullish breakout is still the dominant technical picture here.
- But now, we have a second pullback, after a rally was rejected at 118.20.

Trendline and Support:
- In the 1H chart, we can see a rising trendline.
- Price will test this rising trendline at roughly 117.50.
- Now, I think if price can hold above 117.50, the USD/JPY would look bullish.
- But a break below 117.50 could still be within the bullish scenario.
- For example, if there is an abc correction, we can see price back down around 117.00.
- I think a hold above 117.00 keeps USDJPY bullish, and a break below it extends the consolidation mode. 
- We should also note that if the RSI can hold above 40, it would show maintenance of the short-term bullish momentum from this past week.