Constellation Brands posted stronger-than-expected fiscal fourth-quarter earnings, raised its dividend, announced the acquisition of luxury wine brands and said it's evaluating an initial public offering of part of its Canadian wine business. 
The alcoholic drinks distributor said it had net earnings of $243 million, or $1.19 a share, in the quarter, up 13% in the case of net profit, and up 12% in the case of EPS from the year-earlier period. Sales rose 14% to $1.543 billion. The FactSet consensus was for EPS of $1.14 and sales of $1.521 billion. 
The company said it now expects fiscal 2017 adjusted EPS to range from $6.05 to $6.35, compared with a current FactSet consensus of $6.94. The company raised its quarterly dividend by 29%, raising the Class A stock dividend to 40 cents and the Class B stock dividend to 36 cents. 
The company said it is buying The Prisoner Wine Co. portfolio of super-luxury brands for about $285 million, in a deal expected to boost earnings for fiscal 2017 by 3 cents to 5 cents.
<!== INSTRUMENT %% %60% ==!>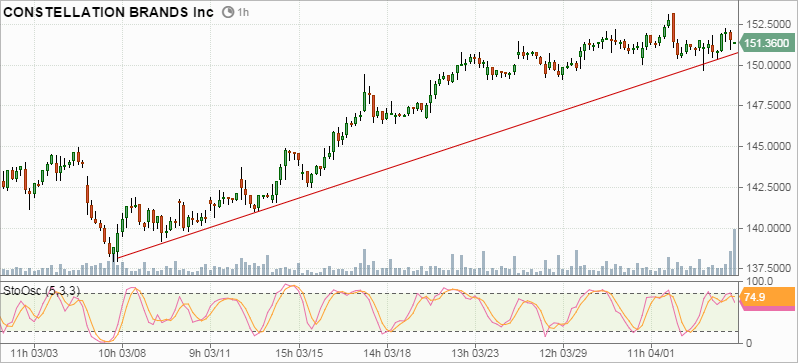 Stocks still in uptrend, but overbourght