By Sarah Roden
The semiconductor sector received some welcomed news on Wednesday as Doug Freedman of Sterne Agee released bullish ratings on Micron Technology, Inc. (NASDAQ:MU) and Intel Corporation (NASDAQ:INTC). This positive coverage comes after months of analysts voicing apprehension about the fall of the PC and the negative impact it is having on semiconductor giants. The price of DRAMs (the memory chip central in producing PCs) has been falling since 2011 due to lower PC demand coupled with increased competition and consolidation within the sector.
As opposed to other analysts who believe the fall of the PC, and consequently the fall of the DRAM, will be the detriment of the semiconductor industry, Freedman voiced that the business runs in cycles and is trading at "an unwarranted discount to the broader market." Despite the weak PC market, the decelerating Chinese economy and the rising strength of the US dollar, Freedman sees overall upside in the semiconductor market even though these adverse factors could be in play for two more years. Freedman is a top-ranked analyst in the technology sector, having achieved a 66% success rate recommending stocks with a +19.4% average return per rating when measured over a one-year horizon and no benchmark.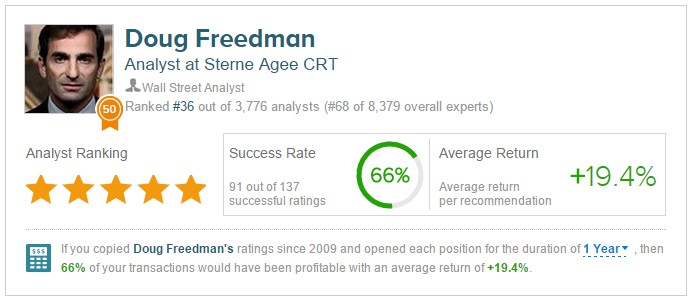 Freedman issued a Buy rating on Micron on Wednesday with a $23 price target, marking a 35% potential upside from current levels. Many have been wary about Micron stock due to slow PC sales and the impact this has on chip demand, but Freedman believes this trepidation is now accounted for in Micron's share price. As a result, Micron's "ability to close the technology gap with peers" in the coming months will offer additional support to its share price.
The analyst explains, "We believe Micron has struggled to keep pace with peers in DRAM and NAND cost per bit metrics, as a result they have experienced margin compression from nominal oversupply conditions. The most simple of supply demand balance equations are complicated in the memory market as technology advances require large amounts of capital and scale to remain competitive."
Freedman concluded, "While moving Micron from weakest positioned to leadership is likely to take several technology transitions and prudent investment of capital resources, the process does appear to have begun with large capital investment in 2016, to advance DRAM node, introduce 3D NAND, and launch X-point products." Freedman is not alone in the Micron's bullish camp. According to the 27 analysts polled by TipRanks in the last 3 months, 20 are bullish on the stock, 6 are neutral, and 1 is bearish. The average 12-month price target between these 27 analysts is $26.14, marking a 54% potential upside from current levels.
Aside from Micron, Freedman also issued a Buy rating on Intel with a $38 price target on Wednesday, marking a 30% potential upside from current levels. Freedman notes that the stock is currently trading at a price that endorses bearish sentiments, but data center growth will soon be a catalyst for increased cash flow. Freedman attributes his bullish rating to "double-digit data center growth driving a 25% increasing cash flow over the next two years."
Freedman has a lot of convincing to do about Intel's positive potential, given that only 15 of the 28 analysts covering Intel have bullish ratings on the stock. According to TipRanks, 15 analysts are bullish on Intel, 10 are staying on the sidelines, and 3 are bearish. The average 12-month price target between these 28 analysts is $33.80, marking a 15% potential upside from currently levels.