My hunt for the gold bar list of the Dutch official gold reserves started in 2015. On September 26 of that year I visited a conference in Rotterdam, the Netherlands, called Reinvent Money. One of the speakers was Jacob De Haan from the Dutch central bank (DNB) Economics and Research Division – you can watch his presentation by clicking .
In his presentation De Haan repeatedly talked about the importance of transparency in central banking. These statements raised my eyebrows, as I submitted a FOIA request at DNB in 2013 to ask for all correspondence between DNB and other central banks in the past 45 years with respect to its monetary gold, which was not honored. From my experience DNB was anything but transparent.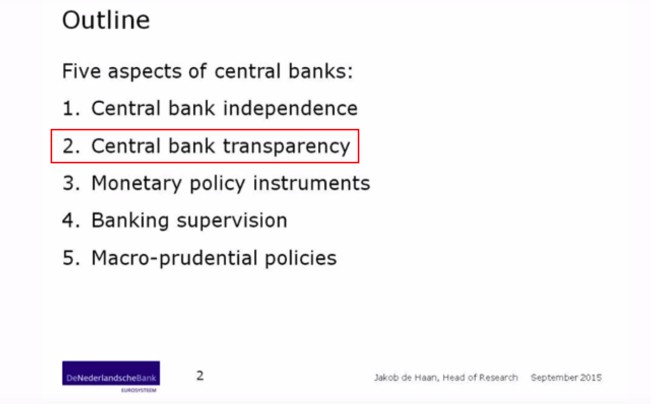 Slide from is Jacob De Haan (DNB) at the Reinvent Money conference September 26, 2015. Red frame added by me.
After the presentation I approached De Haan and asked him, if transparency is so important to DNB, why has it never published its gold bar list? An act of transparency that could be accomplished within minutes. De Haan offered me he would look into that. He gave me his email address and we agreed to stay in touch.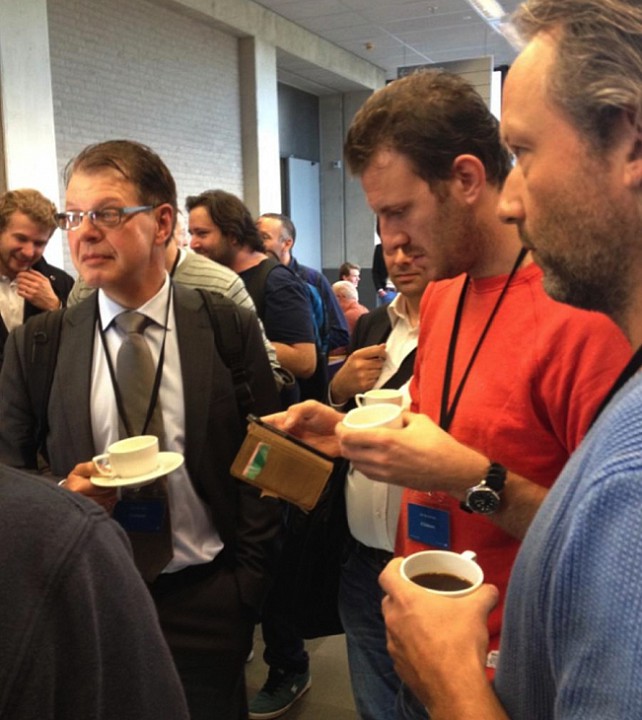 September 26, 2015, at the Reinvent Money conference. On the left is Jacob De Haan, on the right in the orange sweater is me.
The next day I send De Haan an extensive email explicating my request at DNB to publish the gold bar list of the Dutch gold in excel sheet format. I wrote him it wouldn't take DNB any effort, as I assumed the bar list was readily available.
De Haan never replied to my email, so I called his office in December 2015 to ask what the status was of my request. De Haan's secretary answered my inquiry was not rejected but still being processed.
Weeks passed but I didn't get any reply from De Haan.
On February 24, 2016, I decided to call DNB's press department to ask about my inquiry. DNB's spokesman, Martijn Pols, told me over the phone the subject was still being discussed internally, he even confirmed De Haan was involved in the decision making. DNB was considering releasing the...
More