Last year global pharmaceutical sales topped the $1 trillion mark for the first time ever. By 2018, the Intellectual Property and Sciences Business of Thomson Reuters predicts sales will rise by another 30% to $1.3 trillion. This is a major growth opportunity for investors, but only if they understand what blockbuster drugs are on their ascent, and which ones could be on the decline.
As it stands now, AbbVie's (NYSE:ABBV) anti-inflammatory drug Humira is the best-selling drug in the world. While it hasn't eclipsed the $13 billion-plus that cholesterol-lowering drug Lipitor brought in during its heyday, Humira generated $12.54 billion in sales in 2014, representing 19% operational growth year-over-year. Through the first two quarters of 2015, Humira's sales totaled $6.65 billion, putting it on pace to log the highest sales total ever for a prescription drug in a calendar year.
Unfortunately for AbbVie and its investors, Humira's time as a protected drug is nearly up. In 2016 Humira will begin to lose exclusivity on certain patents and be exposed to generic competition, with biosimilar competition projected to enter the market by 2018. Long story short, Humira's run as the best-selling drug in the world is likely going to come to an end in the next couple of years.
The world's best-selling drugs by 2020
What drug could wind up taking its place? While it's nothing more than a guess at this point because so many variables can play into the total annual sales of a drug -- including drug development, competition, drug pricing, launch success, and marketing -- I'd keep my eye on a handful of therapies to step up as the best-selling drugs in the world by 2020.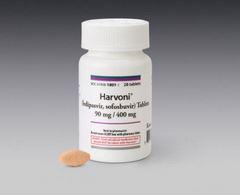 Harvoni
The most logical choice to ascend to the title of "best-selling drug in the world" would be Harvoni, the hepatitis C medication from Gilead Sciences (NASDAQ:GILD) that's designed to treat genotype 1 patients. Genotype 1 is the hardest to treat, but it's also the most common, comprising about 70% of all HCV cases.
Harvoni is a step up from previous HCV therapies in two big ways. First, it's extremely convenient. It's a once-daily pill that has minimal side effects. Compare this to prior-generation therapies that may have required interferon and a ribavirin, which came with the added side effects of flu-like symptoms and potential anemia.
Secondly, Harvoni dramatically improved SVR rates, or the rate at which no detectable level of hepatitis C virus could be detected after however many weeks of treatment (typically 12). The treatment-naïve group demonstrated a 94% cure rate after just eight weeks (prior...
More