Monday evening marks the start of the third annual Amazon Prime Day, Amazon's AMZN once-a-year online shopping holiday that offers shoppers a plethora of limited-time offers and special deals. After the success of the two previous Prime Days, this year's event has already garnered a significant amount of attention.
Last year, Amazon reported that worldwide customer orders surpassed Prime Day 2015 by more than 60%, and Amazon Vice President Greg Greeley has stated that the company is aiming to smash its own record this time around, so it's clear that Prime Day has quickly established itself as one of the world's premier shopping events.
While Prime Day is certainly an exciting time for Amazon shoppers, investors might approach the event differently. One-day sales are typically priced into retail share prices already, but the size of Prime Day—as well as the general attention it brings to Amazon's Prime program—makes this occasion unique.
With that said, check out our full infographic for everything investors should know ahead of Amazon Prime Day 2017: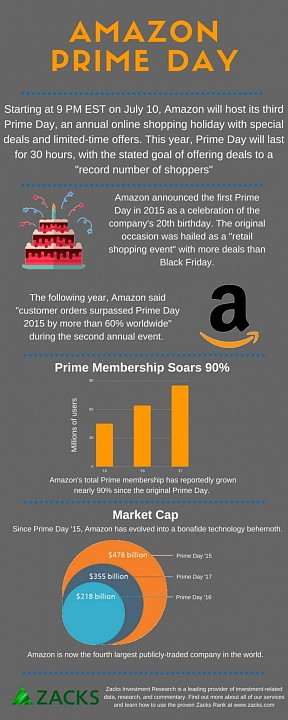 Amazon remains tight-lipped about its total Prime user numbers, but the above figures represent the best guesses of several research firms.
It's also worth noting that the two years since the first Prime Day have been a defining period for Amazon. We already knew Amazon was an innovative e-commerce giant, but since then, the company has established itself has a leader in several emerging tech markets, including cloud computing and artificial intelligence.
Amazon is a much different company than it was just two years ago, but the potential for plenty of future growth is still obviously present. Prime Day is a time for Amazon to celebrate its loyal customers, and for investors, it's a time to reflect on one of the world's most remarkable companies.
Have a happy Prime Day 2017, and here's to many more to come!
Want more stock market analysis from this author? Make sure to follow @
https://twitter.com/Ryan_McQueeney
on Twitter!
Will You Make a Fortune on the Shift to Electric Cars?
Here's another stock idea to consider. Much like petroleum 150 years ago, lithium power may soon shake the world, creating millionaires and reshaping geo-politics. Soon electric vehicles (EVs) may be cheaper than gas guzzlers. Some are already reaching 265 miles on a single charge.
With battery prices plummeting and charging stations set to multiply, one company stands out as the #1 stock to buy according to Zacks research. It's not the one you think. See This Ticker Free >>
Want the latest recommendations from Zacks Investment Research? Today, you can download 7 Best Stocks for the Next 30 Days.
Click to get this free report
Amazon.com, Inc. (AMZN): Free Stock Analysis Report
To read this article on Zacks.com click here.
Zacks Investment Research