With the price of hardware falling, VR equipment has become a more affordable option for doctors
When Deona Duke woke up from a medically-induced coma to begin recovering from burns that covered almost a third of her body, one of her treatments was hurling snowballs at penguins. The 13-year-old was set on fire when a bonfire exploded on her and her friend. To prevent infection, burn victims need their bandages changed and dead skin scraped away. Sometimes, even morphine isn't enough to make that tolerable.
At the Shriners Hospital for Children in Galveston, Duke's doctors gave her a virtual reality headset. Slipping it on, she was immersed in "SnowWorld," an icy landscape where she got to lob snow at snowmen and igloos. The Texas hospital is one of the few trying out virtual reality to relieve pain.
"I'd never heard of it so I was a little surprised," she said. "When I first tried it, it distracted me from what they were doing so it helped with the pain."
It's still a new and experimental approach, but proponents of virtual reality say that it can be an effective treatment for everything from intense pain to Alzheimer's disease to arachnophobia to depression. And as Facebook Inc., Sony Corp., HTC Corp. and others race to build a dominant VR set, the price of hardware has fallen, making the equipment a more affordable option for hospitals looking for alternatives for pain relief.
The idea is that the worst pain can be alleviated by manipulating the way the human mind works: the more you focus on pain, the worse it feels. Swamp the brain with an overload of sensory inputs—such as with the immersion in a virtual world—and its capacity to process pain, to be conscious of it, goes down.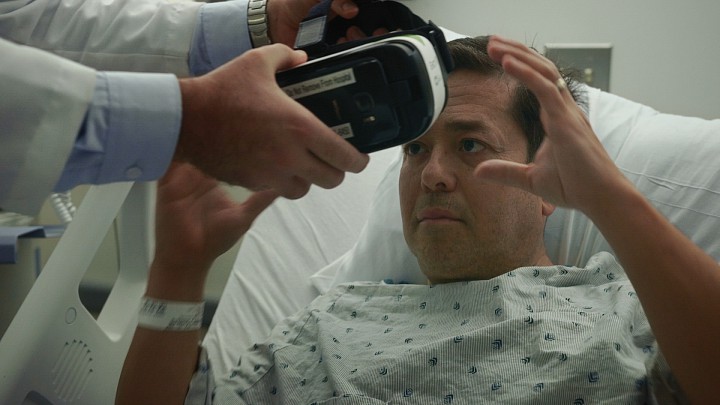 "Pain is our harm alarm and it does a really good job of getting our attention," said Beth Darnall, a clinical associate professor at Stanford Health Care's division of pain medicine. She says VR, which Stanford has done some pilot studies on, is a psychological tool, like meditation, that can "calm the nervous system, and that dampens the pain processing."
In research done at Shriners by psychologists Hunter Hoffman and Walter Meyer, and similar work done by Dave Patterson at Harborview Burn Center in Seattle, patients reported less discomfort. Hoffman examined magnetic resonance imaging (MRI) scans of patients' brains, which showed they actually experienced less pain.
More