The GBP/USD has been in a consolidation range for the past month. Price oscillated between 1.5690 and 1.5450 for the most part. There was a bearish break earlier in August, but that proved to be a false break. Today (8/18), we are seeing a break from this month-long range to the upside. 

GBP/USD 4H Chart 8/18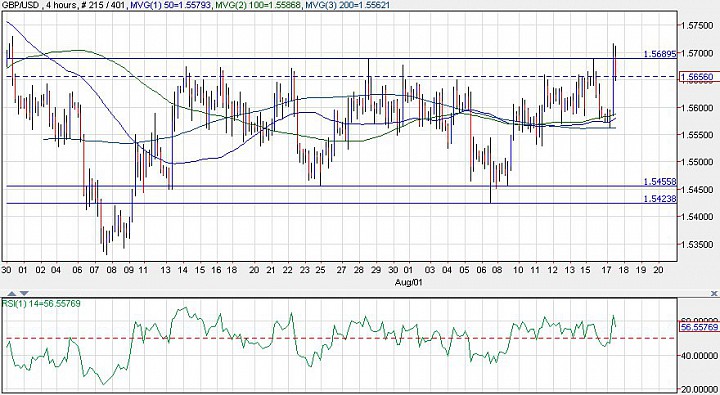 (Click to enlarge)

The 4H chart shows the bullish breakout. The 1.5550 area is now a very key support for the bullish outlook. If there is a pullback, price should hold above 1.5550 if the market is indeed bullish. Otherwise, if price drops below 1.5550, the current bullish breakout might be a false one. 

If the breakout is true, there is upside risk towards the 1.5930 high on the year. 
Tomorrow (8/19) might be a pivotal one for the pair, from the USD side. There is CPI data followed by FOMC minutes. Let's see if the current breakout survives that. Or perhaps, the event risks will propel the GBP/USD upwards, and we might not get that "test" pullback. 

From a trading perspective, I would only consider putting in a very small position with wide stop to account for possible volatility. Then, if after tomorrow's reaction the GBP/USD still looks bullish, maybe start adding bigger positions.