Facebook, Inc. FB is set to report third-quarter 2017 results on Nov 1 after the market closes. Facebook results will continue to be driven by strength in online and mobile advertising revenues as well as Instagram.
For the third quarter of 2017, the Zacks Consensus Estimate for Facebook's earnings per share and total revenues are projected to be $1.28 and $9.879 representing an increase of 45.5% and 41% from the third quarter of 2016.
Facebook has beaten the Zacks Consensus Estimate in all the trailing four quarters and has an average surprise of 11.30%.
Facebook, Inc. Price and EPS Surprise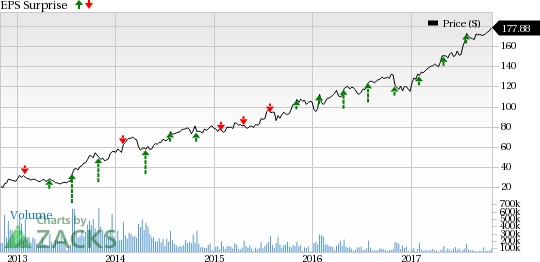 Facebook, Inc. Price and EPS Surprise | Facebook, Inc. Quote
Continued Increases in Digital Ad Revenues
As has been the case for the past several quarters, online and mobile advertising revenues will continue to be under the spotlight this time around as well. Facebook's mobile ad business has fast emerged as a major contributor to its advertising revenues. Mobile monetization has increased with higher number of marketers, continuing investment in new products and robust performance of its newsfeed ads.
The Zacks Consensus Estimate for ad revenues stands at $9.715 billion, nearly 43% above the year-ago quarter's actual figure.
Digital ad revenues are expected to sustain the momentum. Facebook's foray into "Live" is expected to be a big contributor to the digital ads. The company has been aggressively promoting "Live" in order to capture the opportunity presented by ever-increasing video viewing on social media platforms. In the third quarter of 2017, Facebook launched a new tab called "Watch" that will be exclusively dedicated to video viewing. Though Watch will take some time to gain footing, it is expected to be a long-term growth driver to boost ad revenues.
Instagram
Ever since its availability to worldwide advertisers last year, Instagram's ad platform has emerged as an important cash cow for Facebook. With over 800 million users, Instagram is now set to join the company's other billion-plus platforms – Facebook, Messenger and WhatsApp. Investors will once again be focused on Instagram's money-minting abilities to boost overall ad revenues for the company. The Instagram Stories platform was opened to global advertisers in March this year. Notably, Stories now boasts 250 million daily average users.
User Base
Facebook's huge user base of over 2 billion enables it to fend off any competition. However, with the user base already at sky-high levels, a relative slowdown is imminent. Also, it is approaching full penetration in North American and European markets. Nevertheless, growth in Asia and the rest of the world should help cushion user growth in the foreseeable future.
For the third quarter, the Zacks Consensus Estimate for monthly average users (MAUs) is 2.061 billion whereas daily average users (DAUs) are expected to be 1.371 billion.
The Zacks Consensus Estimate for MAUs in Asia is 782 million, up 24.3% year over year while rest of the world MAUs is projected to be 680 million, up 15.8% from the prior-year quarter's actual figures.
Headwinds
Despite its increasing revenues, Facebook maintains a cautious stance on revenue growth. Since the past few quarters, the company has maintained that ad revenues will continue to grow but will now face tougher year-over-year comparisons. Ad load that has been a leading factor driving ad revenues will cease to be so in the coming quarters and won't be a big factor after mid-2017. Consequently, ad revenue rates will "come down meaningfully." Moreover, as the company continues to ramp up investments, costs are already on the rise. With Facebook planning to go on a hiring spree next year (especially engineers), it will further add to costs.
Moreover, Facebook needs to tread cautiously so as not to irritate users with too many ads. Competition from the likes of Snapchat SNAP, Twitter TWTR and Alphabet GOOGL for ad dollars is also concerning.
At present, Facebook carries a Zacks Rank #1 (Strong Buy). You can see the complete list of today's Zacks #1 Rank stocks here.
Zacks' Best Private Investment Ideas
While we are happy to share many articles like this on the website, our best recommendations and most in-depth research are not available to the public.
Starting today, for the next month, you can follow all Zacks' private buys and sells in real time. Our experts cover all kinds of trades… from value to momentum . . . from stocks under $10 to ETF and option moves . . . from stocks that corporate insiders are buying up to companies that are about to report positive earnings surprises. You can even look inside exclusive portfolios that are normally closed to new investors.
Want the latest recommendations from Zacks Investment Research? Today, you can download 7 Best Stocks for the Next 30 Days.
Click to get this free report
Facebook, Inc. (FB): Free Stock Analysis Report
Alphabet Inc. (GOOGL): Free Stock Analysis Report
Twitter, Inc. (TWTR): Free Stock Analysis Report
Snap Inc. (SNAP): Free Stock Analysis Report
To read this article on Zacks.com click here.
Zacks Investment Research