The EUR/GBP recently rallied to 0.7420 before stalling as we can see in the 4H chart. 

EUR/GBP 4H Chart 9/1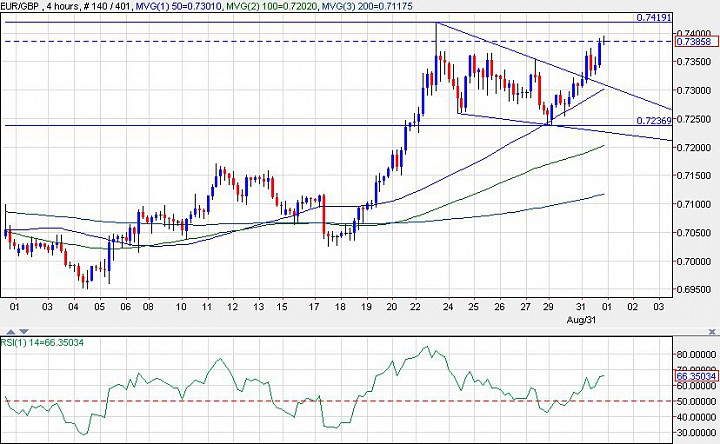 (Click to enlarge)
Now the market consolidated for about a week, chopping up and down with a low down to 0.7237. However, the bearish attempt has been reversed since the end of last week and into the 9/1 (Tuesday) session. 

We can see that in the 4H chart, price held above the rising 50-period simple moving average, and the RSI held above 40 after pushing way above 70 even 80. The technical picture thus reflects a market with bullish bias and momentum. 

Plus, today's price action broke above last week's consolidation structure making 0.7420 vulnerable. 

EUR/GBP Daily Chart 9/1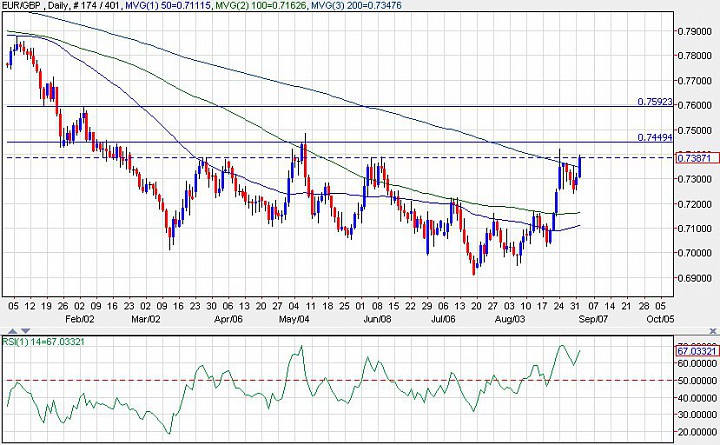 (click to enlarge)

The daily chart shows that indeed today's price action seems to be extending a bullish push since July, which really took off in August. As we start September, the EUR/GBP appears to have shifted its bearish mode into a neutral one in the medium-term, with short-term bullish outlook that has the 0.7450 and 0.7590 levels as conservative and aggressive targets. Perhaps, the 0.75-0.7550 area is a middle-ground target area to the upside for the first couple weeks of September.