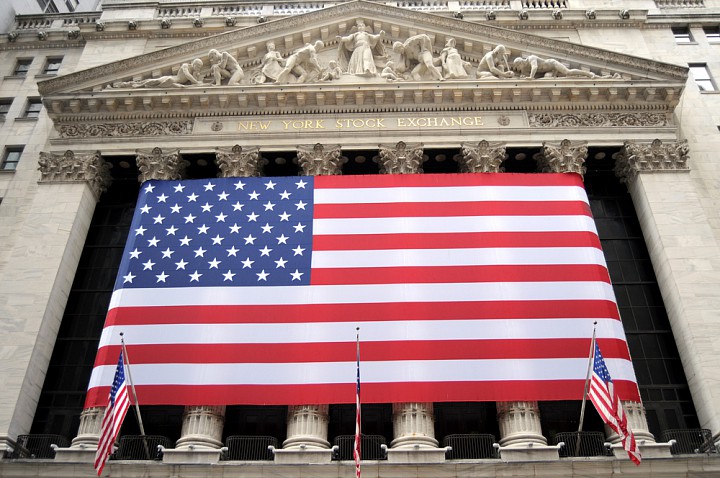 The CEO of JPMorgan Chase is excited about what he has termed a "broad based recovery" of the American economy. While concerned that global uncertainty could "slow down American growth a little bit", Jamie Dimon seemed resolute in his belief Tuesday that we "will still have growth in America."  Dimon claimed the United States as an exception in a challenging global economy.  Wells Fargo CEO John Stumpf was also optimistic, noting "we continue to see signs of a steadily improving economy".
This comes a week after the International Monetary Fund upgraded its U.S. growth forecast to predict that the United States GDP will expand by 2.2 percent in 2014, up from 0.5 percent last year, in its annual World Economic Outlook, published October 7th.  With almost 250,000 jobs added in September, unemployment at new low of 5.9 percent, and a recovering housing market, the United States is a global rarity in a global economy still reeling from the financial crises of recent years.
The IMF forecast was nearly halved for Brazil, sinking to a prediction for 1.4 percent GDP growth from the healthy 2.5 percent they enjoyed a year ago.  The Eurozone's growth continues to be sclerotic, with progress in Italy insofar that Italy is projected to climb out of the negatives to grow its economy once again.  The IMF is now urging Germany to shelve some aspects of austerity and is promoting new German-led stimulus programs to improve the stagnant continent.  Japan saw the largest downgrade with a growth forecast of less than one percent (0.9).  While Russia saw a huge chunk of projected global growth at 4.4 percent, these numbers were lower than expected as the Russian economy suffers the strains of Crimea-induced international tensions.  China, still strong, is still continuing its slowdown.
Regardless, we aren't back to perfect.  The U.S. economy hasn't returned to its routine 3 percent annual growth of the pre-Great Recession years.  But with the United States as the only nation on earth other than India (where great optimism has greeted the new Narendra Modi government) to see a notable upturn in its fortunes, there is some definite reason to celebrate.
As goes the United States so goes... the United States.  This report proves that, at least for the time being, gains in the U.S. alone cannot save the world.  This new globalized reality has been used by some to chastise America in recent years, but as Americans go forward in the West's most rapidly recovering nation it looks like the joke's on everyone else.