When you're investing for the long term, it's helpful to consider businesses whose track records include tough operating environments. After all, if a company can thrive through past periods marked by recessions, inflation, and market turmoil, chances are good that it can navigate similar situations in the future.
That's one of the key appeals of so-called Dividend Aristocrats, which have boosted their dividend payments for a minimum of 25 consecutive years. Consumer healthcare titan Johnson & Johnson (NYSE:JNJ) meets that high bar -- and in fact, far exceeds it. The company has boosted its dividend every year since 1961, for an incredible 54-year streak.
Image Source: JNJ.com.
Johnson & Johnson stock history
Originally founded in the late 1800s with offerings such as baby powder, sanitary napkins, and the first mass-produced dental floss, Johnson & Johnson has grown into a true global healthcare titan. Today it's the fifth-largest pharmaceutical company, the sixth-largest biotech company, and the sixth-largest consumer healthcare product seller in the world.
Johnson & Johnson's stock price history reflects that incredible growth. Shares are up 25 times over the last 30 years, which equates to an 11% compound annual growth rate since 1985: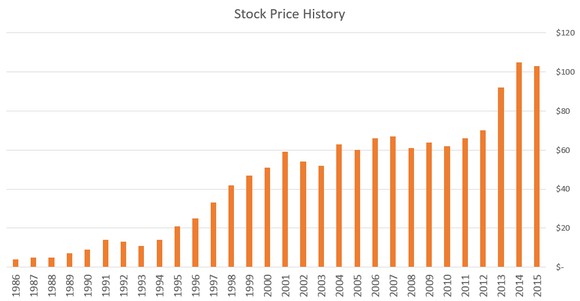 Include dividends in the mix and the returns look even better. JNJ's dividend has risen from $1.28 per share a decade ago to $2.95 per share now, for a 9% annual growth...
More