Dow futures up +70 as the distribution levels remain mild during the broader pullback.
I added yet another TrendLine SetUp to the report today as GILD looks good to watch for a break out.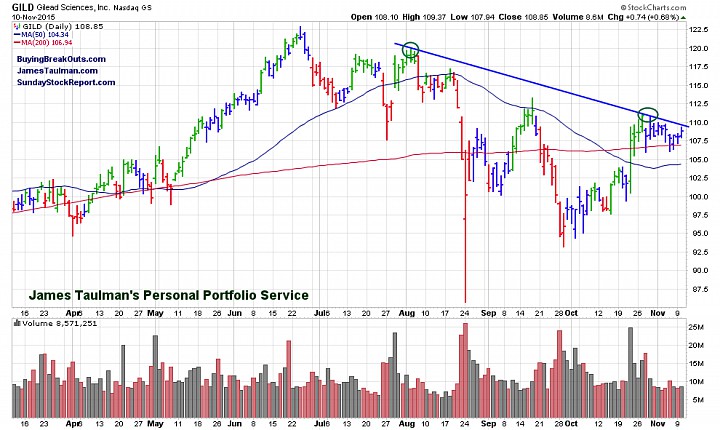 This selection sports high ranks (except for the Acc/Dist rank) and also has good fundamentals.
Shares are already trading above resistance of the 50 and 200-day moving averages.
Basically any gains from here with volume conviction would have this stock triggering a buy signal.
As I stated here before, these trendline breakouts are going to be a little tougher to deal with than our previous, more traditional breakouts to new highs. Trendline BreakOuts have resistance or overhead supply.
I will continue screening for potential LONGS or SHORTS as I do several times a day.
As I have continuously said - "If I feel real good about getting into anything, I will let you know via email."
For more than 8 years I had served as Editor-in-Chief an independently licensed website that offered stock reports and services based on the CAN SLIM® investment system.
I have developed a knack for being able to quickly and accurately analyze high-ranked stocks based on this winning investment strategy.
Over the years, I have enjoyed assisting individuals from professional money managers to private investors with their needs in relation to implementing this investment approach on a daily basis in the current marketplace.
Each Sunday you could hear me deliver my weekly market report as part of the "Your Money Matters" radio program on ABC and CBS radio networks.
I now runs two websites and a portfolio service where I features select stocks which match up very favorably with the guidelines of the winning investing system.
At my long-standing SundayStockReport.com website, I produce a weekly newsletter that includes my High Ranked Leaders Watch List, and ongoing portfolio style coverage on breakouts from that concise list.
My newer site, BuyingBreakOuts.com is where I offer a stock watch list each market morning, emailed out as a Stock WatchList Morning Update. This report contains my hand selected stocks which looked the most poised to break out. There are also real-time "BreakOuts Alerts!" of stocks from that list which trade above my set Trigger Price. These are sent via email to those who sign up for this free service.
Most recently I introduced – James Taulman's Personal Portfolio Service where I give specific BUY, HOLD or SELL calls on suitable high-ranked market leaders. These selections have solid fundamentals along with bullish technical chart patterns. I also present stocks for shorting and give, SHORT and COVER alerts on those as well.
I designed this latest service to take only what I see as the most sound stock selections from all of the services which I currently offer.
This new service is basically how I use the information which he has available to me, to trade a personal brokerage account.