U.S. stocks traded sharply higher on Thursday, as Wall Street digested the European Central Bank's rates decision, economic data and a fresh batch of earnings.
"We were hoping the ECB would remain open to further easing, and it appears as though they are," said Art Hogan, chief market strategist at Wunderlich Securities.
The ECB kept interest rates unchanged.
"Short-term inflation expectations have declined but more medium- to long-term inflation expectations, after some decline following our last meeting have now recovered and are basically unchanged since then," ECB President Mario Draghi said in a news conference.
Draghi's remarks pushed the euro down more than 1.5 percent against the dollar.
Euro/dollar intraday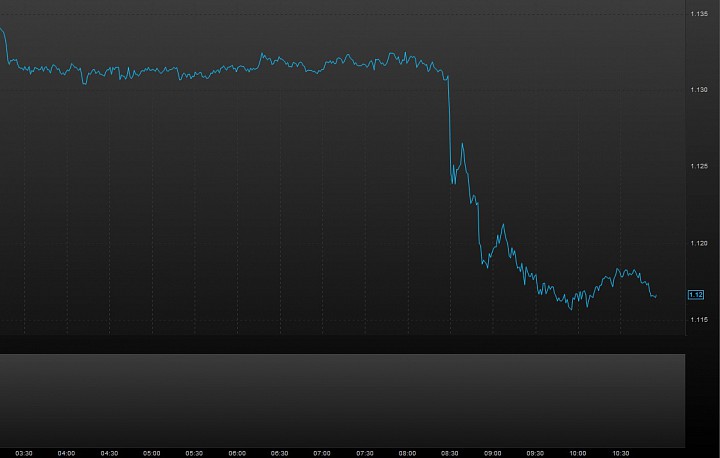 "Obviously, Europe needs to devalue its currency a bit more," said Randy Frederick, managing director of trading and derivatives at Charles Schwab. "The concern of the euro gaining value is [weighing], so I think Mario Draghi is sort of trying to push that in the other direction."
Frederick also said he expects the ECB to go further into its quantitative easing program — which began in March — before the year ends.
U.S. stocks began Thursday trading sharply higher, with the Dow Jones industrial average opening up more than 100 points before gaining 300 points.
The S&P 500 and the Nasdaq Composite gained more than 1.5 percent after opening sharply higher.
Draghi's comments also sent European equities higher, with the German DAX and the French CAC 40 both closing above 2 percent.
"I think the...
More