Five months after one of the biggest breakups in corporate mining history, those claims are already in doubt.
South32's stock has been in free fall as prices for its products, including aluminum and coal, have fallen into a deep slump. Last week, its shares dropped to a fresh nadir of 1.33 Australian dollars (US$0.96).
Despite a modest recovery this week, South32 is still down nearly 30% since it listed. A company some touted as being worth as much as US$15 billion before its launch now has a market value of just more than US$6 billion.
South32 is doing worse than its peers amid this year's broad-based commodities selloff. The company—listed in Sydney, Johannesburg and London—has underperformed an index of Australia's top resources companies, which is down roughly 15% since South32's debut in May. Shares in its former parent, BHP, are down 16% over the same period.
"One wouldn't classify it as a raging success," said Anthony Sedgwick, a fund manager and co-founder at South Africa-based Abax Investments Pty. Ltd., which has nevertheless kept a small holding in South32 since its demerger.
The question now is whether South32's rocky start is a result of bad timing, or if its problems run deeper.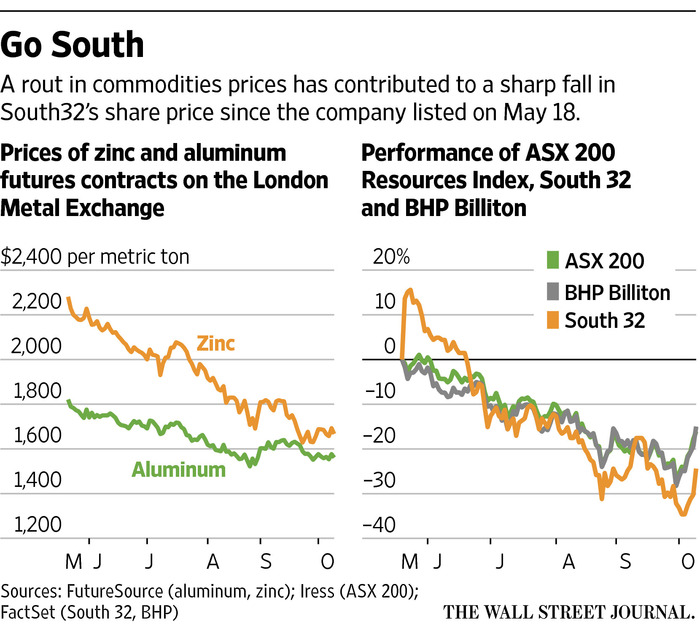 In theory, corporate spinoffs create value by unleashing the potential of business lines that may have been hidden within large corporations. In South32's case, operations such as nickel and manganese mining that were too small to make a difference to BHP's profits were expected to blossom. That, in turn, was supposed to benefit BHP investors, who received one share in the new company for every share they owned in the mining giant.
Some saw flaws from the start. A...
More