Skyworks Solutions Inc. SWKS reported fiscal third-quarter 2017 non-GAAP earnings of $1.57 per share, which increased 26.6% from the year-ago quarter and 8.3% on a sequential basis. Further, the figure came ahead of management's guidance by a nickel.

Earnings (including stock-based compensation) were $1.46 per share, beating the Zacks Consensus Estimate by 4 cents.

Revenues of $901 million were up 19.8% year over year but increased 5.8% sequentially. However, it came ahead of management's guidance and the Zacks Consensus Estimate of $890 million.

We expect the third-quarter beat and improving growth prospects to help the stock's momentum in the rest of 2017 and beyond. Notably, Skyworks shares have gained 45% on a year-to-date basis, outperforming the industry's return of 35.7% over the same time frame.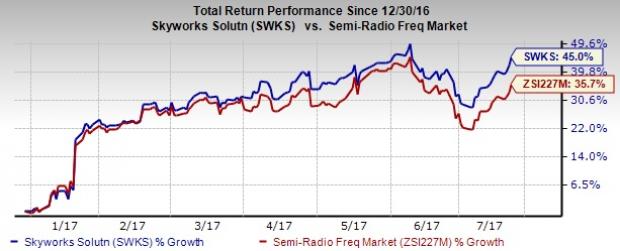 Key Growth Drivers

Management noted that broad markets represented 27% of the total revenue in the third quarter, while the mobile market constituted the remaining 73%. Strong demand for Wi-Fi, Zigbee and LTE solutions have helped the company to gain traction. The company delivered ZigBee and Wi-Fi devices for Amazon's AMZN virtual assistants and ramped up LTE MIMO solutions for leading infrastructure OEMs.

Skyworks noted that per industry projections, IoT volumes are anticipated to reach 75 billion units by 2025, driven by robust demand for connected home, smart grid and virtual assistants. Hence, IoT remains a significant growth segment for the company.

The demand for highly integrated solutions is increasing as customers implement the next level of functionality for higher bandwidth. This adds to Skywork's strength.
Skyworks Solutions, Inc. Price, Consensus and EPS Surprise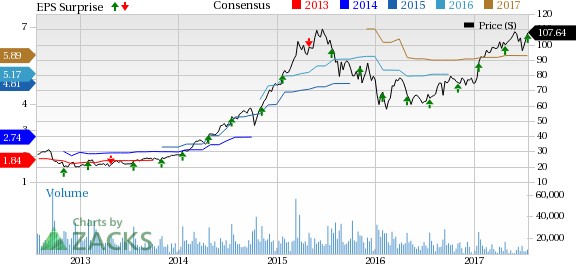 Skyworks Solutions, Inc. Price, Consensus and EPS Surprise | Skyworks Solutions, Inc. Quote
During the third quarter, the company supported Huawei's smartphones with its own flagship products SkyOne and SkyLiTE. These products were also leveraged to other smartphone and electronics manufacturer companies like OPPO, Vivo, ZTE and Sharp. Also, its DRx solutions were adopted in Samsung's Galaxy platforms.
With a customer base comprising the likes of Cisco CSCO in MIMO gateways, Nintendo in its Switch Gaming console, Fitbit, Garmin and LG, the company is on a strong growth trajectory. Notably, the upcoming 5G upgrade cycle is also a major positive for the company.

However, with Apple AAPL, which contributes around 40% of Skyworks' revenues, delaying the launch of iPhone8, the supply chain structure has been affected. This is adversely impacting top-line growth of the company. Moreover, the weakness in China due to piled up inventory is another headwind for the company.

Margin Details

Non-GAAP gross margin contracted 20 basis points (bps) on a year-over-year basis and expanded 50 bps sequentially to 50.7%.

Research & development (R&D) expense decreased 20 bps year-on-year and 30 bps sequentially. Selling, general & administrative (SG&A) expense declined 70 bps from the year-ago quarter and 10 bps sequentially.

As a result, non-GAAP operating margin increased 50 bps on a year-over-year basis and 60 bps sequentially to 34.7% in the reported quarter.

Balance Sheet & Cash Flow

As of Mar 31, 2017, cash & cash equivalents were $1.44 billion compared with $1.08 billion in the previous quarter. Cash flow from operating activities was $314.1 million compared with $140.9 million in the year-ago quarter. There was no debt on the company's balance sheet.

The company paid dividend worth $52 million and repurchased 1.3 million shares for a total of $129 million in the quarter.

Guidance

For fourth-quarter fiscal 2017, revenues are expected to be up 17% year over year to $980 million. The figure is anticipated to be better than the Zacks Consensus Estimate of $972.9 million.

Gross margin is expected to be around 51%, while operating expenses are likely to be $124 million. Diluted earnings are anticipated to be $1.75 per share, up 19% on a year-over-year basis. The Zacks Consensus Estimate (including stock-based compensation) is currently pegged at $1.62.

Zacks Rank

Skyworks currently carries a Zacks Rank #3 (Hold).

You can see the complete list of today's Zacks #1 Rank stocks here.
Will You Make a Fortune on the Shift to Electric Cars?
Here's another stock idea to consider. Much like petroleum 150 years ao, lithium power may soon shake the world, creating millionaires and reshaping geo-politics. Soon electric vehicles (EVs) may be cheaper than gas guzzlers. Some are already reaching 265 miles on a single charge.

With battery prices plummeting and charging stations set to multiply, one company stands out as the #1 stock to buy according to Zacks research.

It's not the one you think.
Want the latest recommendations from Zacks Investment Research? Today, you can download 7 Best Stocks for the Next 30 Days.
Click to get this free report
Cisco Systems, Inc. (CSCO): Free Stock Analysis Report
Amazon.com, Inc. (AMZN): Free Stock Analysis Report
Skyworks Solutions, Inc. (SWKS): Free Stock Analysis Report
Apple Inc. (AAPL): Free Stock Analysis Report
To read this article on Zacks.com click here.
Zacks Investment Research