Following their first ever, 2+ hour meeting which was originally supposed to last only 30-40 minutes, the question on everyone's mind was what did the two discuss.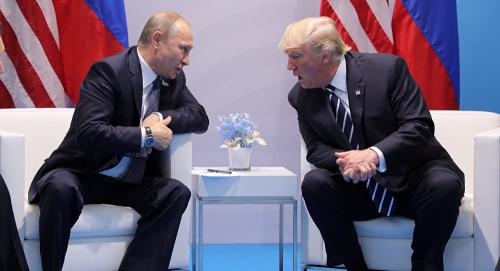 And, speaking at the beginning of his meeting with Japanese Prime Minister Shinzo Abe, Putin said that during his first meeting with US President Donald Trump, the two discussed Syria, Ukraine, counterterrorism and - perhaps surprisingly - the "fight against cyber crime."
"I had a very lengthy conversation with the President of the United States, there were a lot of issues such as Ukraine, Syria, other problems, some bilateral issues", according to Interfax news agency.
"We again returned to the issues of fighting terrorism and cybersecurity," Putin added.
Until now, Putin and Trump had only spoken on the phone. They were not alone: Russian Foreign Minister Sergey Lavrov and US Secretary of State Rex Tillerson were also present at the talks.
* * *
Earlier, during the press photo session, Trump told the media that "President Putin and I have been discussing various things, and I think it's going very well."
"We've had some very, very good talks, we are going to have a talk now and obviously that will continue," Trump added, saying there are hopes of "a lot of very positive things happening."
"It's an honor to be with you, thank you," Trump concluded, offering his hand to Putin.
"Spasibo [thank you]," the US leader added in Russian.
Addressing Trump, Putin then said that although the two leaders have "several times talked over the phone, including on some very important bilateral and international issues," phone talks were "obviously not enough." Meetings in person are "necessary" if the two countries want to resolve the "most pressing issues," Putin added.
* * *
Finally, some additional details courtesy of the Russian and US foreign ministers:
TILLERSON: U.S., RUSSIA, JORDAN REACHED CEASEFIRE IN SW SYRIA
RUSSIA HAS SAME INTEREST IN STABLE SYRIA AS U.S.: TILLERSON
TRUMP NOTED SANCTIONS BILL ONGOING IN PUTIN TALKS: TILLERSON
NO LONG-TERM ROLE FOR ASSAD, HIS FAMILY, IN SYRIA: TILLERSON
TILLERSON SAYS IT IS NOT CLEAR U.S. OR RUSSIA WILL EVER COME TO A RESOLUTION ON THE QUESTION ABOUT ELECTION INTERFERENCE: RTRS
And the punchline:
TRUMP RAISED ELECTION MEDDLING, PUTIN DENIED ROLE: TILLERSON
TRUMP ACCEPTED PUTIN'S ASSURANCE OF NO ELECTION HACKING: LAVROV
In summary: Putin denied hacking the US election, and "Trump accepted Putin's assurance." We now await the howls of outrage from the US media.