SINA Reports Mixed Results for 3Q15
SINA's price movement
SINA (SINA) has a market capitalization of $2.9 billion. SINA's YTD (year-to-date) price movement has been a mix of rises and falls in 2015.
After its 3Q15 earnings report, SINA rose by 4.5% to close at $50.36 per share as of November 18, 2015. The stock's price movements on a weekly, monthly, and YTD basis are 4.9%, 9.2%, and 34.6%, respectively.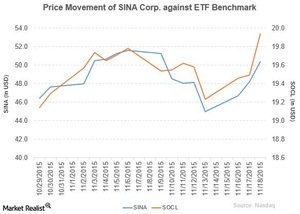 Technically, SINA's stock has broken the support of its 20-day, 50-day, and 200-day moving averages a few times in 2015. Currently, SINA is trading 4.6% above its 20-day moving average, 15.0% above its 50-day moving average, and 19.6% above its 200-day moving average.
The Global X Social Media Index ETF (SOCL) invests 4.4% of its holdings in SINA. The ETF tracks a modified market-cap–weighted index of social media companies...
More