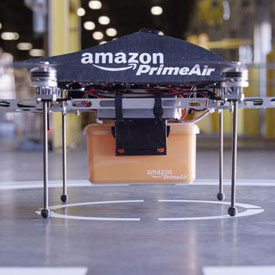 Amazon testing drones for package delivery
Amazon.com Inc. is testing drones to deliver goods as the world's largest e-commerce company works to improve efficiency and speed in getting products to consumers.
Chief Executive Officer Jeff Bezos unveiled the plan on CBS's "60 Minutes" news program in the U.S., showing interviewer Charlmie Rose the flying machines that can serve as delivery vehicles. The CEO said the gadgets, called octocopters, can carry as much as five pounds within a 10-mile radius of an Amazon fulfillment center. Amazon may start using the drones, which can make a delivery within 30 minutes, within five years pending Federal Aviation Administration approval, Bezos said.
http://www.bloomberg.com/news/2013-12-02/amazon-testing-octocopters-for-delivery-ceo-tells-60-minutes-.html
It is an interesting solution, isn't it?