Daria Bulanova , Analyst, Global Markets (Finam)
On Wednesday, March 27, the euro has been
firming against the greenback after the opening. Investors so far see no
reasons for optimism. Although the acute phase of the Cyprus debt crisis is
over, the government had to make huge sacrificed in order to rescue the country
from uncontrollable default. It's plain to see that the Cypriot banking system
is looking at an extensive period of recovery before it gets back to normal. Despite
the fact that Cyprus is a tiny economy compared to other EU member states and
Cyprus troubles have no direct impact on the currency union's overall standing,
taxing large bank deposits has set a certain precedent. To remind, Euro Group
chief Jeroen Dejsselbloem recently noted that resolving debt problems in such a
manner could turn into a new template for other Eurozone countries.

Cypriot banks are set to reopen on Thursday
rather than Tuesday. Cypriot banks have been shuttered for a week and a half
already. Most likely long lines will appear at banks, but deposit holders will
hardly manage to withdraw all their money all at once. The media reported that
Cyprus is gong to announce plans today to keep tabs on money transfers in order
to avert heavy cash outflow from the country. For the record, last week the
Cypriot parliament vested national central banker Panicos Demetriades with
broader authority, including the right to limit daily cash withdrawals.
Several macro indicators, to which the
EUR/USD pair is sensitive, are due out today, including Germany's GfK consumer
sentiment (7:00 GMT) and also the Eurozone's Business Climate Index (10:00
GMT).
In terms of technical indicators, the
EUR/USD pair continues to trade lower. Over the past two days the pair has been
testing the support level (1.283), after which, if breached, the 1.274 mark
could become a new target.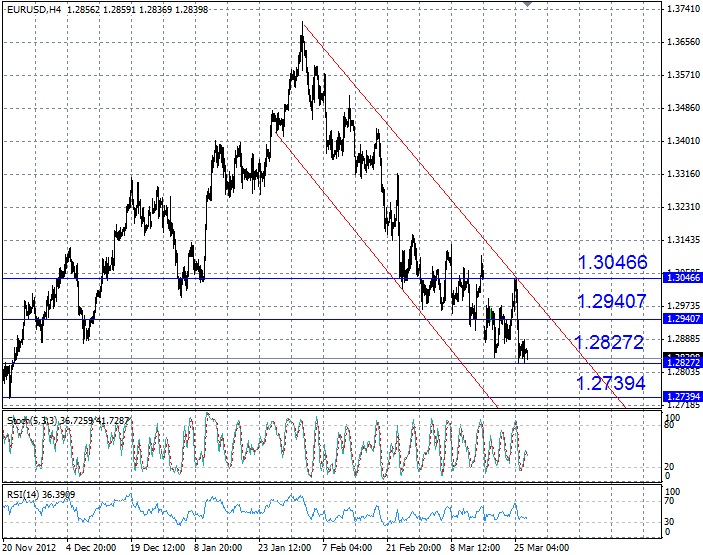 Source: MetaTrader Finam Ltd., 4-Hour Chart