A bad trend has been brewing in Australia. 

The slack in mining has been worrying to the economy that relies heavily on it. 


First a breakdown of the actual capital expenditure in Q4 2013 goes like this: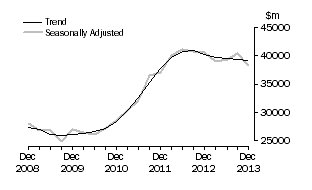 (Source: ABS)
Total expenditures fell 5.2%. Other than the building and structure component, others - Equipment, plant and machinery; Mining; Manufacturing; and other selected industries - all saw declines in expenditure.

Forecasts were for a softer, 1.0% decline. Also the previous quarters 3.6% increase was revised down to 2.6% - Not a good way to end 2013.


An even more worrying sign comes from a reading of expectations:

(Actual and Expected New Capital Expenditure, Source:
ABS
) click for full view

According to the Sydney Morning Herald, the consensus forecast was $139B. This was already a notch down from the outlook in the last couple of years, and the reported expectation of $124.9B sorely missed that pessimistic forecast. 

Fade a Pullback:


The AUD/USD slid breaking a consolidation support that was rising, as shown on the 4H chart below: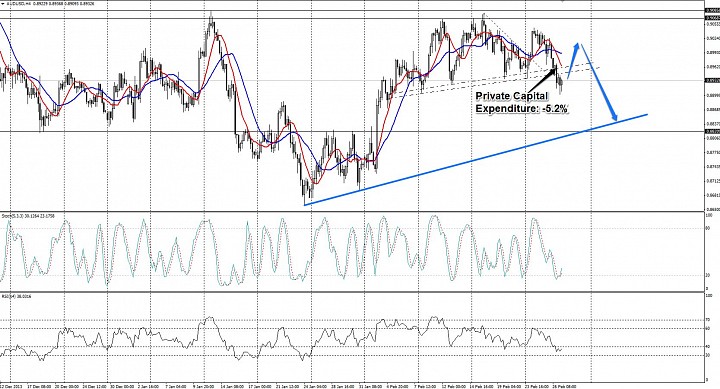 (AUD/USD 4H chart: click for full view)

Because there is near-term upside risk from an intra-session oversold condition, I am looking to fade a pullback. At the moment, I am stalking the 0.90 level to monitor price action and a combination of Stochastic at 80 and RSI at 60 for clues to sell.