Volatility in currencies nears highest level in two decades

5 february 2015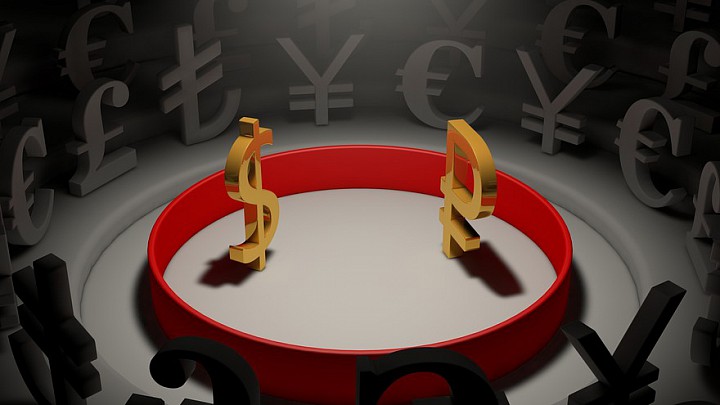 Shutterstock.com
Central banks are relying on weakening their currencies to prop up economic growth.

From Singapore to Switzerland, the epidemic of central banks devaluing their currencies to fight sluggish growth rates amid a dearth of policy alternatives has resulted in the highest foreign exchange volatility in two decades.
It is a trend of countries intentionally deflating their currencies that economists have dubbed a "currency war."
Only after the Asian financial crisis in 1997 and the days following the collapse of Lehman Brothers in 2008, have currencies been more volatile, said Bank of America Merrill Lynch strategist David Woo.
That measure of volatility is based on a gross-domestic-product-weighted range-based index of currencies of the 20 largest economies in the world, which shows this current bout of currency swings as the third highest in 20 years as the included chart illustrates.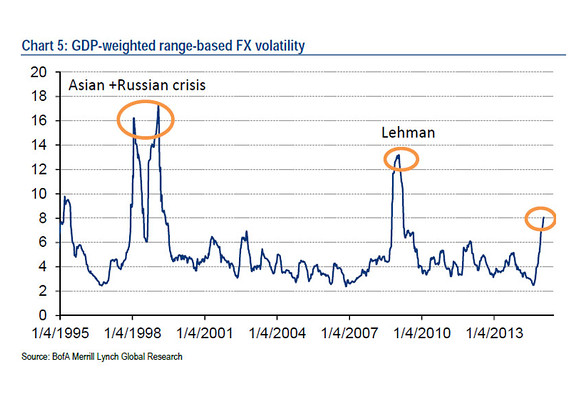 "Of course, these two previous episodes were both crisis periods. From this point of view, we can say that currency volatility is the highest for non-crisis periods in twenty years," the Bank of America strategist said in a note to investors.
Woo cautions that the unintended consequence of this type of insidious currency war could lead to greater volatility which in turn could undermine healthy global trade and investment.
"A weak currency might provide a short-term boost to the countries engaging in currency devaluation. However, if everyone is playing the same game, all we will end up with is more and higher FX volatility," said Woo.
Extreme currency volatility was on display last month when the Swiss National Bank took the unprecedented step of eliminating its peg to the euro, ending a three-year peg that helped to rein in the value of the franc. The stunning move inmid-January resulted in a 23% run-up in the franc against the euro and 21% spike versus the dollar, rocking the currency markets and setting the tone for this present-day currency strife.
Woo predicts that companies will increasingly focus on home markets at the expense of international trade while foreign direct investments are likely to be depressed and carry trades—where investors borrow currencies of countries with low interest rates to buy high yielding currencies—will lose favor.
Sue Chang