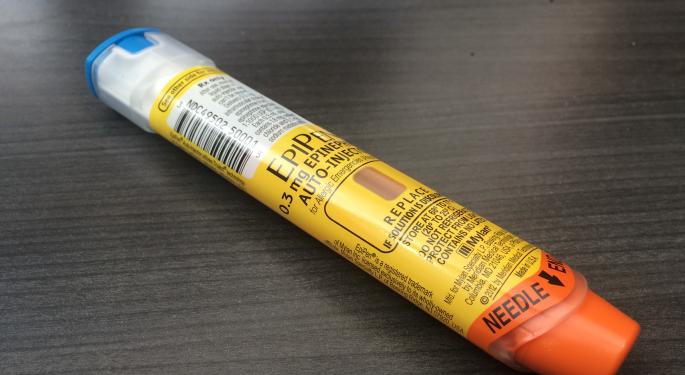 To stem the tide of criticism over price hikes of its EpiPen, CEO Heather Bresch went on CNBC Thursday to offer a "Savings Card" to consumers.
That apparently was all Wall Street analysts needed to hear. Barclays said the announcement "took the sting" out of the controversy. Goldman Sachs maintained its Buy rating.
But I'm still concerned.
What Is An EpiPen?
EpiPens are auto-injections of adrenaline that temporarily stave off anaphylaxis -- a severe allergic reaction. Prior to Mylan's acquisition in 2007, they sold for around $100 before insurance. Today, they cost over $600.
That's for one pack of two EpiPens. But two may not be enough. Because anaphylaxis can come on very suddenly, most people with severe allergies always need to keep one nearby. That means one at home and another at work, at least.
Actually, make that two at home and two at work, because EpiPens are sold in two-packs. This is to protect against one being defective, and also because they are merely temporary. Epinephrine only staves off anaphylaxis for 15-30 minutes, so if symptoms return and you aren't already in a hospital, you may have to take another one. EpiPens also expire every couple of years.
I have a severe food allergy, and EpiPens are my last resort. On more than one occasion -- a couple of which, I admit, were due to my own stupidity -- an EpiPen injection has literally saved my life.
Related Link: Biotechs Are Down 17% Since Clinton First Put Industry On Blast Last September
Expensive Pens
For people with expensive insurance, the price increase doesn't matter much -- they'll get covered regardless. This is the group I currently fall in.
But starting next year, I'll be in the group that majority of Americans belong to: the one whose insurance doesn't cover most of the cost.
People with insurance plans that don't cover EpiPens, or who don't have any -- which as of last September was 33 million Americans -- could be on the hook for hundreds of dollars every time they need a new prescription.
Part of the problem is there's no alternative. For one reason or another, EpiPens are essentially the only product epinephrine auto-injector available to most.
Sanofi SA SNY 0.51%'s Auvi-Q presented a viable alternative for a while (I even got a few myself), until they were recalled last year for having an incorrect dosage.
Impax Laboratories, Inc. IPXL 0.59%'s Adrenaclick is a generic version, but it's not covered by most insurance plans. It can also be difficult to get since, thanks to efforts by Mylan, it can't be substituted directly for an EpiPen,
But what about that savings card of up to $300? Well, here's the Washington Post.
"Although the company said that the savings card would halve the cost of the drug to commercially insured patients who pay full price, outside experts said the overall impact will likely be small and that it did not amount to a solution to the broader problem. Such savings cards are a classic public relations move by the pharmaceutical industry, said Harvard Medical School professor Aaron Kesselheim, and it will only be used by a fraction of the people who need the drug. For example, such savings cards are illegal in government health programs such as Medicaid."
They continued:
"But the savings card cannot be used by people without insurance or by people who are in government-funded health programs. The cards are not allowed in federal health care programs because they are considered a kickback: Companies use the discounts to incentivize patients to buy a product while leaving the federal government on the hook for the remaining cost of the drug."
Now What?
So what do you do if you're one of the many people whose insurance won't pick up the slack here?
Turns out some people are just passing altogether.
Dr. Lisa Elconin (whose husband Joel is the co-host of Benzinga's PreMarket Prep) is board certified in internal medicine. She's had four patients in just the last two weeks tell her they aren't getting them, despite the fact that they have severe allergies.
But the bottom line is that people like me absolutely need this medicine. And if things don't change, I'll have no choice but to pony up every time I need more.
© 2016 Benzinga.com. Benzinga does not provide investment advice. All rights reserved.
Source