One of the key stories last week was the strength of commodity currencies, as the USD, EUR, GBP, and JPY were
generally weaker against the AUD, NZD, CAD.

This followed a prolonged period of weakness, especially for the AUD and NZD. However, the factors that had brought that weakness - a
general fear of a weakening Chinese economy - seem to be dissipating. Data on trade, industrial production, and loan growth all seemed to support a bottoming out of the 1st half weakness in Chinese activity.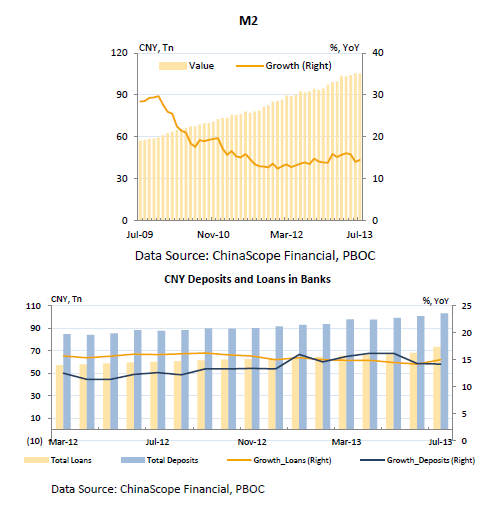 The measure for M2 Money Supply was up 14.5% y/y in July, compared to 14.0% in June.
Chinese equities have responded by jumping to a 2-month high, with the
Shanghai Index up 2.4% on Monday. The rally was led by construction and financial companies.

There's also
news like this
to help bolster expectations around China:
"Agbank, one of the Big Four state lenders, has signed an agreement with the city government for a 250 billion yuan (HK$314 billion) loan - equivalent to 12.5 per cent of Shanghai's GDP last year.



The loan will help fund the government-controlled joint venture that is building China's second Disneyland and pay for improvements needed to implement the city's much-heralded free-trade zone."

Well, alright. The growing consensus among the press at least is that China is stabilizing. Is it enough to give an extra bounce to commodity currencies? Especially since the consensus also seems to be that the Fed is likely to start its "Tapering" come September? Is the commodity currency strength for real or just a dead-cat bounce?
- Nick