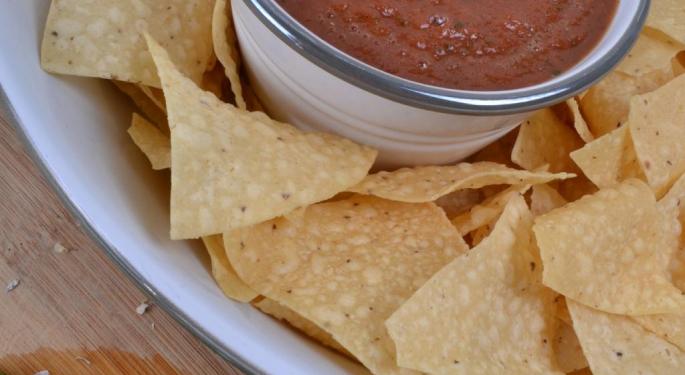 Food safety concerns continue to affect Chipotle Mexican Grill, Inc. CMG 1.41%, although sales initiatives could have an impact on value perceptions, Goldman Sachs' Karen Holthouse said in a report. She maintained a Neutral rating on the company, with a price target of $490.
The food safety survey indicated "some improvement" in figures directly related to safety, suggesting that a higher number of consumers could return to or increase their frequency with proper incentives in place.
"That said, more than a quarter of respondents still say they are "much less likely" to eat there, suggesting a potentially long tail of consumers that have not seen the proper messaging around changes to procedures," Holthouse wrote.
Survey Results
Before answering this survey, were you aware of any recent food safety issues regarding Chipotle (e.g., E. coli)? – 77.7 percent said "yes," while 22.3 percent answered "no."
How likely is it that you would recommend Chipotle Mexican Grill to a friend/family member or colleague? – Here, a score of 0 means they would not recommend at all, and a score of 10 indicates they would definitely recommend – The score improved to 6.1 in June 2016, from 5.9 in March.
Consumers aware versus not aware of the food safety incidents – "Not aware" increased from 6.8 in March to 6.9 in June, while "aware" increased from 5.7 in March to 5.9 in June.
When you first heard of these food safety issues, how much did they affect the likelihood of you eating at Chipotle Mexican Grill? And if you were to consider eating at Chipotle Mexican Grill today, how much would these past food safety issues affect you?
They would have no effect on me – Increased from 32 percent in March to 42 percent in June
They would make me slightly less likely to eat there – Declined from 36 percent in March to 32 percent in June
They would make me much less likely to - Declined from 32 percent in March to 26 percent in June
Did you like this article? Could it have been improved? Please email feedback@benzinga.com with the story link to let us know!
Date
Firm
Action
From
To
Jul 2016
CLSA
Upgrades
Underperform
Outperform
Jul 2016
Morgan Stanley
Downgrades
Overweight
Equal-weight
Jun 2016
Goldman Sachs
Maintains
Neutral
© 2016 Benzinga.com. Benzinga does not provide investment advice. All rights reserved.
Source