The action is starting to pick up between the 2 major European currencies (the EUR and GBP) and the commodity bloc of currencies (the AUD, NZD, CAD). 
The GBP/NZD is one example: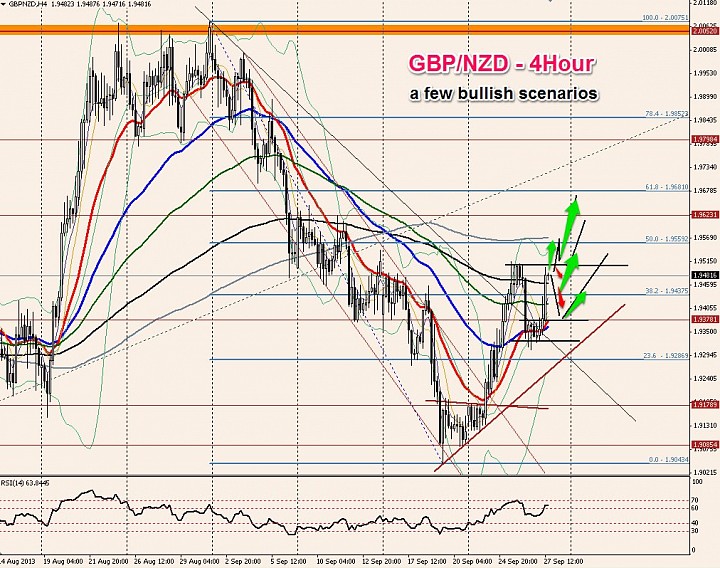 The start of this week showed the pair's momentum shifting to bullish price action.

First, following the 3-week decline, there was a good bottoming pattern, and a V-shaped counter-rally.
Price managed to push above the medium term EMA's (21 in red, and 55 in blue). 
Price then used those EMA's as a support consolidating in a well behaved range between 1.9380 and 1.9330. That looked to me like some re-accumulation following the initial up-swing.

Now we test an important pivot at the 1.95 handle.

There are a couple of ways to play this and it depends on what you believe price will do next.
There's a chance price will break-out in the short term, without a pullback.

But, you would want to see that happen first, before buying into a strong level of resistance (like 1.95). But, a break-out and then pullback to the break-out level could be a play.
The second scenario comes if resistance at 1.95 holds and there's a move back downward, opening up a chance to buy the dip. Price can come back to the 1.9440 or 1.9380 areas in which case could be a level from which a further rally starts.

By waiting for the retracement here, there's also a chance that the pair may set up a technical pattern, like an ascending triangle, as is consolidates, which may give us a further edge.
So, looking to see what this pair does next (interested to see if the retrace is able to extend in the next week or..) and will be looking for either of these scenarios to play out - a break-out or a chance to buy the dip. 
- Nick