Moments ago Intel "surprised" Wall Street by beating Q1 EPS expectations of $0.40, which incidentally looked as follows...
... with a number that was goalseeked to be the smallest possible incremental beat, printing at $0.41, or rather, $0.40537. The algos took it and ran, ignoring both the modest topline miss at $12.78 bn vs consensus just over $12.80bn and Intel's guide down for Q2, which Wall Street expects at $13.45bn and while INTC said would come at $13.2 Bn.
What mattered: EPS grew from $0.38 a year ago to $0.41, and beat.
And yet, a second look at the numbers reveals something strange - both revenue and Net Income were unchanged from a year ago to today.
So how did INTC "beat"?
Time for accounting magic lesson 102.
First, INTC decided to ever so slightly reduce its tax rate, from 27.7% to 25.5% in the current quarter, in the process saving $60 million.
Far more importantly, what really helped "beat" the EPS was the ongoing collapse in shares outstanding, which declined from 5,117 million a year ago to 4,914 million, a 4% drop courtesy of the relentless corporate stock buyback.
What this means is that what otherwise would have been an EPS miss to the $0.40 expectation if INTC had used last year's tax rate and share count, was in fact a 1 cent beat.
And that's is why when in doubt, "adjust" you tax rate and do lots of buybacks.
That said, for Intel the buyback spree may be coming to an end.  As the following chart shows, after going full tilt with buying back its stock in the past 12 months, repurchasing over $10 billion of its own shares, INTC's buybacks have come back to earth with a thud, with "only" $750MM in stock bought back in Q1.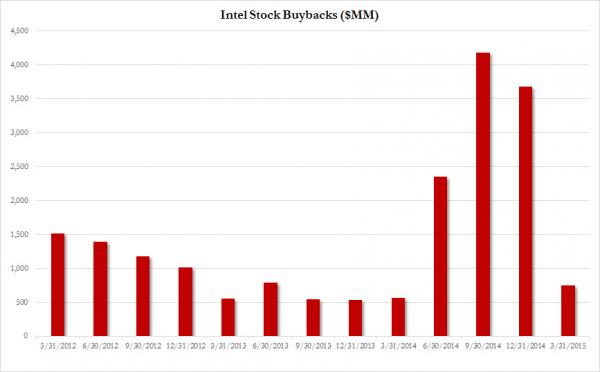 Don't cry for INTC shareholders thought. According to the 8-K, there is still a generous $11.6 billion in stock buybacks left under the current authorization.
h/t @Not_Jim_Cramer