Cornerstone onDemand provides cloud-based applications to recruit, train, manage, and connect people across your organization. The company's stock lost almost 13% over the last week and more than 38% since IPO. 
<!== INSTRUMENT %% %60% ==!>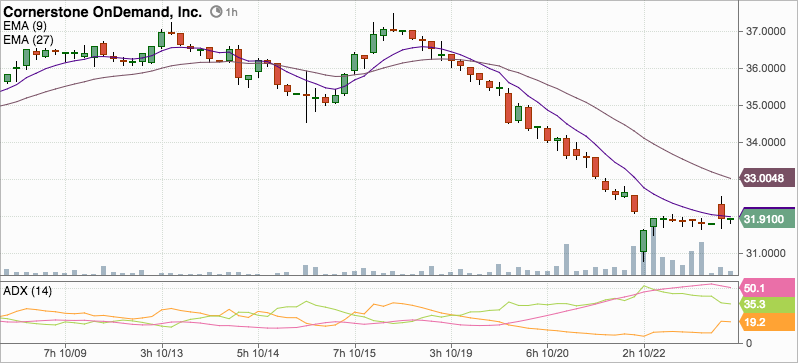 We need to check if this is a bottom for the stock price or it still keeps the downside potential. 
Operating and financial metrics
Cornerstone onDemand provides the cloud-based solution, the company receives its revenue from client's subscription. Number of clients is growing, the company signed 209 new customers during the first half of the year (+195 clients in the same period last year). So the company at least will keep the same growth rate in customer base for this year.
Average revenue per account is growing, 3-y CAGR is around 20.29%. However, the latest information shows that the ARPA growth almost stopped. The company had around $65K ARPA in the first half of 2014, the same period of 2015 the company ended with $66K ARPA. So I suppose the company will have approximately the same ARPA this year as it was in 2014. 
Customer acquisition cost and marketing expenses
Sales and marketing expenses are more or less at the same level (as % of revenue) in comparison with 2014: 63.23% in 2015 vs 62.88% in 2014. However, the customer acquisition cost grew up from $383K to $466K. 
One thing is important in Cornerstone's financials: the company increased its cost of revenue significantly from 29% of revenue to almost 34%. And I think that this fact is going to reduce the marginality of the business operations. I do not think that Cornerstone onDemand is a good for investments at the current moment. The company will announce the Q3 results on 5th of November, probably we can see some positive trends there. 
What do you think about such on-demand services?