Positive divergences - can it make a local bottom?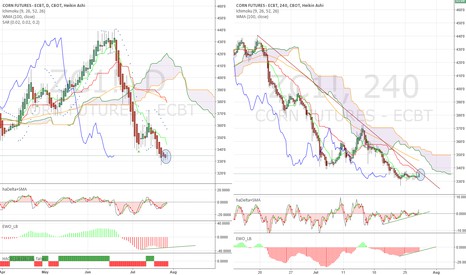 Here are the daily and 4H charts of Corn0.00%% which I meantioned yesterday on Twitter0.00%% but I could not post.

Daily:
- Ichimoku setup is bearish , but Price is too far below equilibrium. It needs to consolidate, pull back a bit at some point.
- Heikin-Ashi candles shrink, last candle is a doji. haDetlta is still below zero: consolidation, indecision
- minor positive divergence in EWO

4H:
- Ichimoku is losing some of its bearish bias. Price is testing Kijun and bearish trendline.
- haDelta/SMA3 shows positive divergence
- EWO shows positive divergence
- Short term upper key levels: 338-340 and 345

In case Price can't make a lower low today or tomorrow, then we may see some quicker pull back to 350-360 zone.

Be wise how much risk you allocate to this trade! You have to keep a tight stop below 330, and you should not trade more than 0,5-1 trade unit size. Risk management is always the key, especially in case of counter trend swing trades!