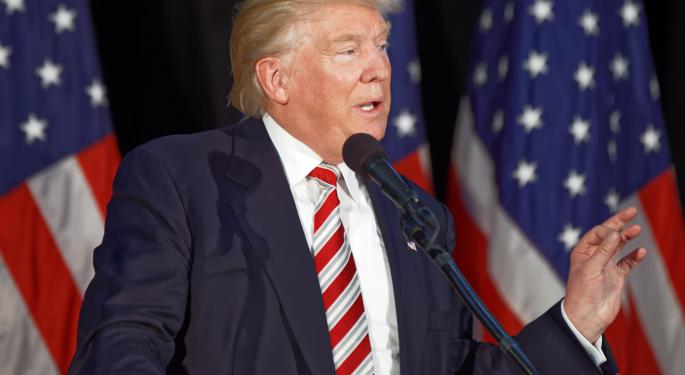 Donald Trump's victory and the "Republican sweep of Congress" could have a significantly greater impact on equity values than the initial share price moves, Credit Suisse's Scott Fidel said in a report. He added that the outlook for the Diversified MCO [Managed Care Organization] stocks seems brighter under a Trump administration.
Fidel further mentioned that the prospects for the Medicare Advantage [MA] appear "particularly bright," while there is uncertainty around the stocks of companies "that are highly leveraged to the Affordable Care Act (ACA) as a driver of their growth stories, namely Hospitals and Medicaid MCOs."
Aetna
Fidel upgraded the rating on Aetna Inc AET 1.49% from Neutral to Outperform, while raising the price target from $120 to $135.
"Aetna has centered its future growth strategy around Medicare Advantage, and this program has always garnered exceptionally strong support among Republicans," the analyst pointed out. He added that the Trump era could "repeal" several of the insurance market reforms that had exerted pressure on the company's Commercial small group and individual businesses.
Humana
Fidel upgraded the rating on Humana Inc HUM 0.96% from Neutral to Outperform, while raising the price target from $175 to $210.
Medicare Advantage carriers, which had been facing funding and regulatory pressures under the ACA, would face an improved funding and regulatory climate under the Trump administration. "The continuation of the health insurer fee (HIF) holiday beyond 2017, or even complete repeal of the HIF also likely has the support of Republicans," the Credit Suisse report noted, saying that this could add $2.20 per share to Humana's annual run-rate adjusted EPS.
Molina Healthcare
The analyst downgraded the rating on Molina Healthcare, Inc. MOH 1.31% from Neutral to Underperform, while reducing the price target from $63 to $47.
Trump's victory could mean potential macro headwinds for both the Medicaid business and public exchanges. "Specifically, President-elect Trump has proposed to push forward with Medicaid block grants, which could effectively cap federal funding to state Medicaid programs. This approach could potentially lead to increased reimbursement pressure on Medicaid managed care rates over time," Fidel wrote.
LifePoint Health
The analyst downgraded the rating on LifePoint Health Inc LPNT 1.58% from Outperform to Neutral, while reducing the price target from $70 to $60.
With Trump being elected as the next president, there is "significant uncertainty associated with the future (and past) growth from the ACA, particularly in smaller rural markets with a higher mix of low-income, Medicaid consumers," the Credit Suisse report mentioned. Fidel pointed out that the ACA benefit was estimated to contribute 8–10 percent of LifePoint Health's 2016 EBITDA, which is now at risk.
Image Credit: By Michael Vadon (Own work) [CC BY-SA 4.0], via Wikimedia Commons
Date
Firm
Action
From
To
Nov 2016
Credit Suisse
Upgrades
Neutral
Outperform
Sep 2016
Evercore ISI Group
Initiates Coverage on
Buy
Jul 2016
Wolfe Research
Downgrades
Outperform
Peer Perform
© 2016 Benzinga.com. Benzinga does not provide investment advice. All rights reserved.