Today, the FOMC met and decided to:
- Keep the benchmark interest rate rate near zero.
- Taper, at $10b increments. On 4/1 the QE program will be reduced to $55b.
- Broaden the factors to consider a rate hike on. It won't just be unemployment.
- Show 13 out of 16 members believing there will be a rate hike in 2015.

(the Federal Reserve Building)
The market is buying the USD because It has turned the corner from anticipating tapering, to now forecasting a rate hike.
For USD/JPY, I believe the FOMC statement is a bullish signal, and the market is so far acting like it.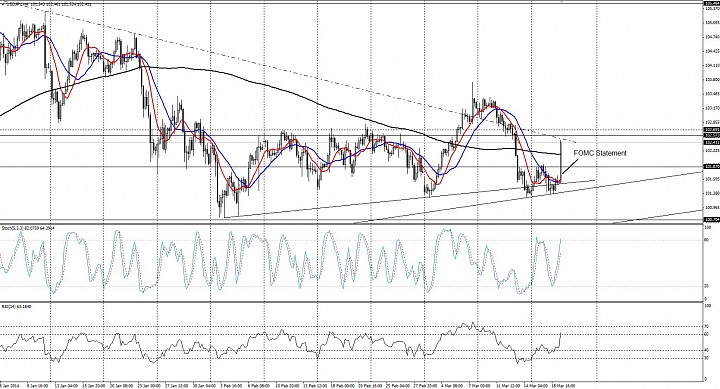 (USD/JPY 4H Chart)
It has been consolidating above some support factors this week. The FOMC statement gives the market reason to buy USD. The BoJ has not mentioned anything about retreating from its loosening policy. 
If USD/JPY can establish a bottom with the Feb-present price action, there is a lot of upside in the USD/JPY even just to challenge the 2014 highs, which is around 105.50, seen in the daily chart.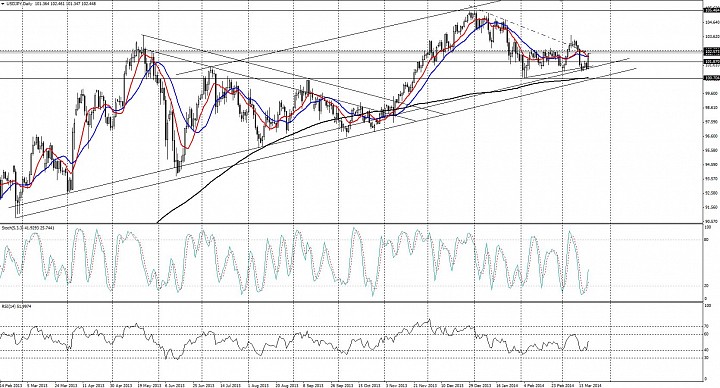 (USD/JPY Daily Chart)
The daily chart shows the USD/JPY staying above support factors and maintaining the bullish mode. Will the uptrend continue after today's FOMC statement?