USD/JPY started the week with a brief decline, but bounced back and rallied through the 3/4 session. I want to consider an intra-session sell here based on a few factors:
Technical Factors:
1) The overall price trend in 2014 appears to be bearish to neutral.
2) Price is below the a downsloping 200SMA in the 4H chart.
3) The 4H RSI also reflects bearish momentum as it has not tagged 70, but has tagged 30 and recently came close.
4) The rally today brought price to a projected resistance, and a previously broken support. 
5) The rally today pushed the stochastic above 80 and the RSI to 60. I often use this S80-R60 combination to time my sells.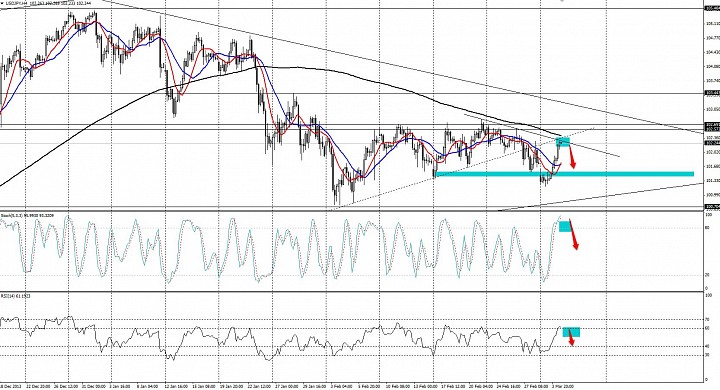 (USD/JPY 4H chart)
Fundamental risk:
1) Risk aversion from the Ukraine crisis eased today. If there is a sense that a confrontational solution can be used to solve the crisis, risk appetite might increase, and usually that is bullish for the USD/JPY. 
2) Traders might trade 3/5's ADP Non-Farm employment change tomorrow, but Friday's NFP is usually makes a bigger splash if there is one.
Looking at the choppiness in February, I am not expecting any big move until it gets closer to Friday, or if there is some major escalation/resolution to the Ukraine crisis. So within a session, the most I can expect is a dip toward 101.50.