Although I am still bearish on EUR/GBP in the medium-term, recent price action suggested that there was still some more short-term bullish correction. An ABC correction is one of the possibilities that appears to be developing. 

EUR/GBP 4H Chart 8/13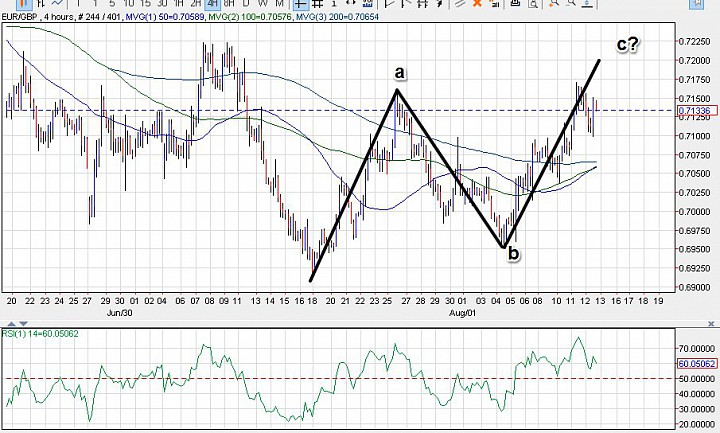 (click to enlarge)
In this scenario, we would be in the C wave, so let's stalking this corrective wave development.

EUR/GBP 1H Chart 8/13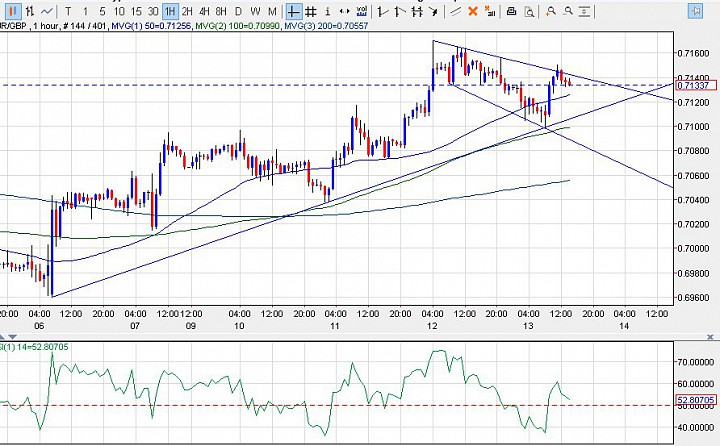 (click to enlarge)
In the 1H chart we can see that, we can see a rally since last week from 0.6960 up to 0.7170 before the most recent consolidation, which appears to be a possible flag pattern. When price bounced off of 0.71, it respected a rising trendline and the 100-hour simple moving average (SMA). Meanwhile, the 1H RSI held mostly above 40, showing maintenance of the prevailing bullish momentum. WE also saw a strong bullish candle to star the 8/13 US session. 

From price action itself, I would remain bullish on EUR/GBP in the short-term. The market will have to clear 0.7150 to really convince the market of the bullish continuation scenario. Or perhaps, if a dip fails to clear below 0.71 and instead makes a higher low let's say around 0.7115-0.7120, the market will also be convinced of the bullish continuation scenario. 

The 0.7170 high to the 0.72 area would be in sight for the next short-term continuation swing.