AUD/JPY has been in a consolidation mode. The 4H chart shows the AUD/JPY chopping up and down since mid-June.

AUD/JPY 4H Chart 8/8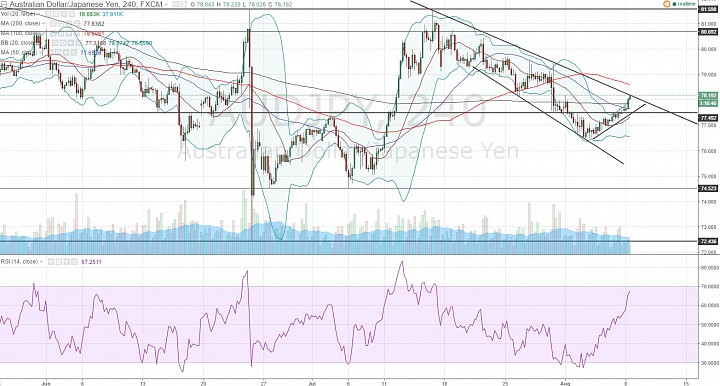 (click to enlarge)
Brexit range:
- After the brexit vote in late June, AUD/JPY whipped up and down forming a range between 81.60 and 72.45. 
- Price came up to the resistance in July, but has since retreated in a slowly expanding falling channel.

Breakout ahead:
- In August we saw AUD/JPY bounce off the channel support. Price is now testing channel resistance.
- Price is pending a bullish breakout, which will open up the 80.70-81.60 resistance area. 
- The 77.80-79.00 will likely provide some resistance to challenge this bullish outlook. But if price can hold above 77.50, the bullish outlook should remain in play. 

Bearish scenario:
- If price holds under 78.50 and falls back below 77.50, then we might have a bearish continuation scenario.
- In this bearish scenario, the AUD/JPY would be exposed to the 74.50-60 area.