Time Warner Inc. TWX, which accepted the buyout offer of AT&T, Inc. T, posted third-quarter 2017 adjusted earnings of $1.82 per share that surpassed the Zacks Consensus Estimate of $1.58 but fell by a penny from the prior-year period.
Including one-time items, earnings per share from continuing operations came in at $1.73 per share, down from $1.87 reported in the prior-year quarter.
Time Warner's total revenue of $7,595 million increased 6% year over year on account of growth witnessed across Home Box Office ("HBO"), Warner Bros. and Turner. Total revenue also came ahead of the Zacks Consensus Estimate of $7,411.7 million.
Adjusted operating income came in at $2,339 million, up 13% from the year-ago quarter, whereas adjusted operating margin expanded 190 basis points to 30.8%. Management continues to project adjusted operating income growth in the high single digits for the full year.
Time Warner Inc. Price, Consensus and EPS Surprise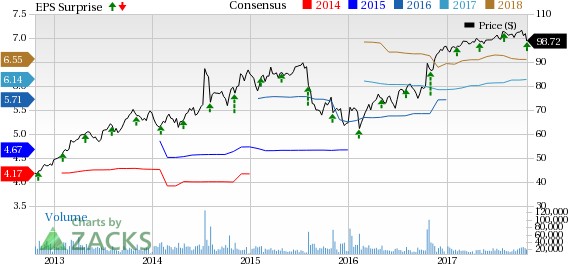 Time Warner Inc. Price, Consensus and EPS Surprise | Time Warner Inc. Quote
Time Warner has taken restructuring aggressively. The company is now focusing on original programming, containing costs and increasing investments in key areas to enhance profitability. The company's investments in video content and technology continued to show results. The company witnessed robust subscription revenue growth at Home Box Office and Turner. Warner Bros. benefited from the success of It, Annabelle: Creation, Dunkirk and Wonder Woman.
We observed that the stock has outperformed the industry in the past one year. Over the said period, the stock has increased 11.8%, while the industry has declined 0.6%.

Segment Details
Turner division's revenue rose 6% to $2,768 million on account of 13% increase in subscription revenue partly and 4% jump in Content and other revenue, partly offset by 3% decline in advertising revenue. Subscription revenue grew due to rise in domestic rates and growth at Turner's international networks, partly offset by fall in domestic subscribers.
Management anticipates subscription revenue to grow at an equivalent rate as in the third quarter. Total advertising revenue is expected to increase in the low single-digits in the final quarter.
Adjusted operating income for the segment rose 5% to $1,267 million compared with the year-ago quarter.
Time Warner's HBO segment revenue increased 13% to $1,605 million driven by growth of 12% in subscription revenue and 14% in Content and other revenue. Higher subscription revenue was primarily attributed to a rise in domestic rates and subscribers, and international growth. Higher Content and other revenue reflect increased home entertainment and international licensing revenues.
Management expects Home Box Office's subscription revenue growth rate to rise in the final quarter of 2017 relative to the quarter under review. Although programming cost is projected to increase at a higher rate, growth in revenue will be sufficed to offset the same. Consequently, the company envisions operating income growth during the fourth quarter.
Adjusted operating income for the division climbed 7% to $565 million.
Warner Bros. revenue jumped 2% to $3,460 million on account of rise in theatrical and videogames revenues, partly offset by fall in television revenues. The increase in theatrical revenue is attributable to higher home entertainment and television licensing revenues of theatrical product. Television revenue decreased due to fall in initial telecast revenues.
Adjusted operating income for the division soared 33% to $576 million. Operating income is likely to fall in the final quarter of 2017 on account of the number and mix of theatrical home entertainment releases, including the comparison to the release of Suicide Squad in the year-ago period, as well as rise in costs related to the mix of theatrical releases and television series production.
Other Financial Aspects
Time Warner ended the quarter with cash and equivalents of $2,621 million, long-term debt of $21,898 million and shareholders' equity of $27,267 million, excluding non-controlling interest of $1 million. During the quarter, the company incurred capital expenditures of $160 million and generated free cash flow of $1,326 million.
Zacks Rank
Time Warner carries a Zacks Rank #4 (Hold). Investors looking for better-ranked stocks can count upon Netflix, Inc. NFLX and Rogers Communications Inc. RCI both carrying a Zacks Rank #2 (Buy). You can see the complete list of today's Zacks #1 Rank (Strong Buy) stocks here.
Netflix and Rogers Communications have a long-term earnings growth rate of 26.7% and 5%, respectively.
Looking for Stocks with Skyrocketing Upside?
Zacks has just released a Special Report on the booming investment opportunities of legal marijuana.
Ignited by new referendums and legislation, this industry is expected to blast from an already robust $6.7 billion to $20.2 billion in 2021. Early investors stand to make a killing, but you have to be ready to act and know just where to look.
See the pot trades we're targeting>>
Want the latest recommendations from Zacks Investment Research? Today, you can download 7 Best Stocks for the Next 30 Days.
Click to get this free report
Time Warner Inc. (TWX): Free Stock Analysis Report
Netflix, Inc. (NFLX): Free Stock Analysis Report
AT&T Inc. (T): Free Stock Analysis Report
Rogers Communication, Inc. (RCI): Free Stock Analysis Report
To read this article on Zacks.com click here.
Zacks Investment Research