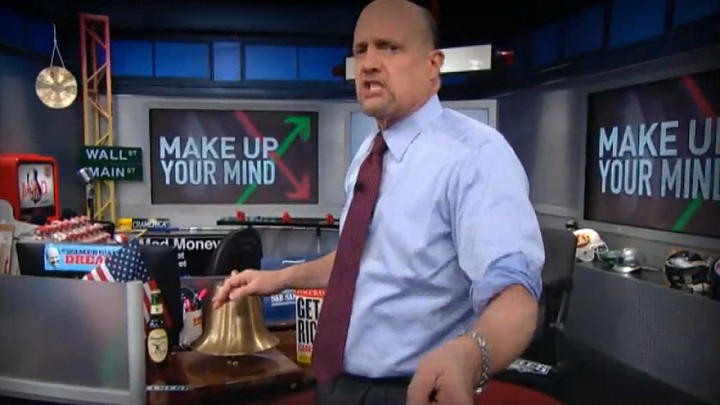 On April 6, 2015, CNBC host and best-selling author Jim Cramer wrote an article: "Jim Cramer's Picks — Here are 49 Stocks to Buy Right Now," published on TheStreet.com. Cramer made a strong case for the 49 stocks.
"Every single one of these companies reported excellent last quarters, and with no exceptions their charts are pretty much perfectly made for this downturn," Cramer wrote. Even if there was a correction or downturn, Cramer wrote that these stocks would do well.
David O. England, a retired finance professor from Carbondale, Ill., decided to test Cramer's stock buy list. On April 6, England bought $1,000 of each security on Cramer's list in a paper-trade account (not including commissions) at the close of the following day.
Tim Cook at WSJDLive: Apple products in your life
(1:18)
Apple CEO Tim Cook discusses the various focuses of Apple from enterprise, to music, to leisure. He speaks with WSJ's Editor in Chief Gerard Baker at the WSJDLive conference in Laguna Beach, Calif.
England bet Cramer a dinner at the 17th Street BBQ restaurant in Murphysboro, Ill., one of the best rib houses in the country. If Cramer's picks were profitable, England would pay. If Cramer's picks were...
More