Looking for more expert commentary and daily trading ideas on NFLX? Find out how you can use this deal to get started on our Benzinga Professional new and data platform today.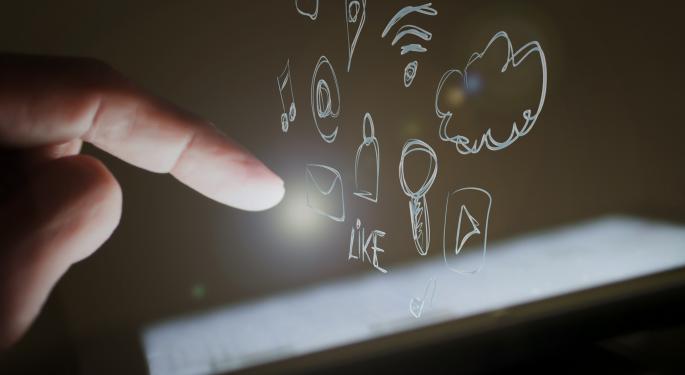 Now that most tech companies have reported Q1 earnings, Benzinga took a look at some of the largest, most popular stocks in the world to determine how much value investors are getting from a share of stock at the current market price.
Here's a breakdown of how Amazon.com, Inc. AMZN 1.42%, Alphabet Inc GOOGL 1.07% GOOG 0.93%, Facebook Inc FB 0.08%, Apple Inc. AAPL 0.09% and Netflix, Inc. NFLX 0.33% look from a fundamental standpoint now that their latest quarterly financials are factored in.
Earnings
A price-to-earnings ratio (PE) is one of the most basic fundamental metrics for gauging a stock's value. The lower the PE, the higher the value. Here's how the current PEs for these five big names compare.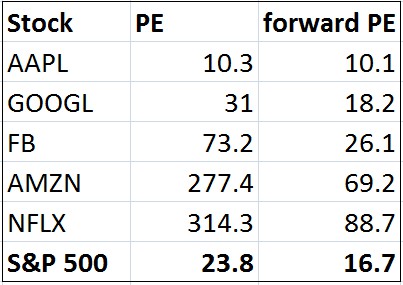 Apple is the only stock of the group with a PE lower than the S&P 500's overall PE of 23.8. Facebook, Netflix and Amazon's PEs of over 70 are nowhere near the typical range. All five companies have improved their PEs over the past two quarters.
Growth
However, when it comes to evaluating a stock, price is not everything.
Growth rate is also critical for companies that are rapidly building their bottom lines. The price-to-earnings-to-growth ratio (PEG) is a good way to incorporate growth rates into the evaluation process. Here's a comparison of the PEGs of these five names.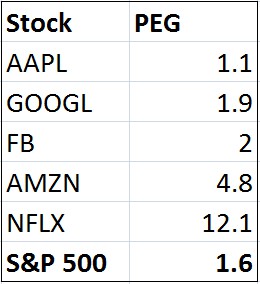 Again, Apple is the only stock with a PEG lower than the overall S&P 500. Alphabet's 1.9 PEG is relatively high; Amazon and Netflix's PEGs are more than three times the S&P 500 average.
Cash Flow
Finally, when a company reinvests a large portion of earnings back into the company for the purpose of expanding operations and growing the business, earnings numbers aren't the best measure of a company's performance or a stock's value.
Instead, investors may choose to focus on cash flow from operations, which indicates how much cash a company generates from regular business activities. Take a look at the price-to-cash-flow-from-operations ratio for each of these five companies.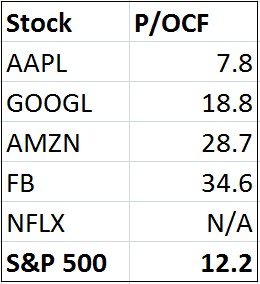 Once again, from a value perspective, Apple comes out on top as the only stock that beats the S&P 500 average. Alphabet's ratio is above average, but Amazon and Facebook's P/OCF are substantially more than twice the S&P 500 average. Netflix has generated negative operating cash flow during the past four quarters. Every company other than Netflix lowered its P/OCF in the past two quarters.
Takeaway
While Apple shareholders may be concerned about the stock's shaky share price, the company continues to add to its appeal from a value perspective. Shareholders of Amazon and Netflix, on the other hand, must hope that the market continues to reward the companies' growth despite extremely high valuations compared to peers.
Disclosure: The author holds no position in the stocks mentioned.
© 2016 Benzinga.com. Benzinga does not provide investment advice. All rights reserved.