SP500 opened lower today as Ukraine tensions again emerge and investors remained cautious against risky investments. The index opened 5.5 points lower at 1976.11 retreating from the Wednesday's close at 1981.57. Yesterday US imposed new round of sanctions against Russia and Europe also planning to impose new sanctions against Russia by the end of this month. The geopolitical risk arose after a Ukrainian fighter jet was shot down by missiles from a Russian Plane.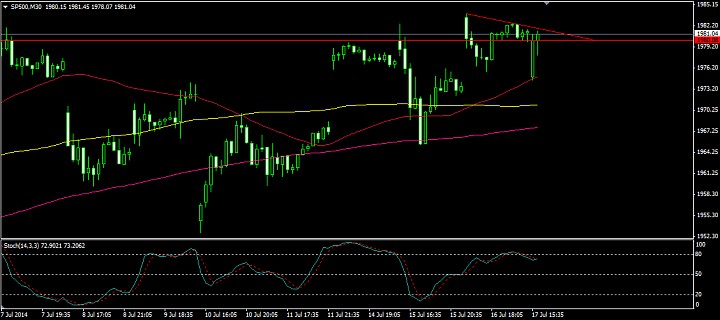 (SP500 : 30 minute Chart)
On the 30 minute chart of SP500, we can see that the index first came down below the resistance at 1980.08 and found support from the 50 day SMA. The index again tried to rebound after the release of the upbeat Philly fed manufacturing index and currently testing the resistance at 1980.08. 
Philly Fed Manufacturing Index Data>   Actual : 23.9, Forecast : 15.6, Previous : 17.8
Also it seems to me like there is a falling resistance trend line at the chart which might again pull the index lower but the resistance at 1980.08 might now act as support.
The index seems supported from the 50 day SMA right now.
Today's Stocks to Watch : Microsoft(MSFT), Morgan Stanley(MS), Blackstone(BX), San Disk(SNDK), Orbitz Worldwide ( OWW), Time Warner (TWX),Sherwin Williams (SHW), Snap-On(SNA)