Summary
After Novo Nordisk's tumble on Friday, we look back at a hedged portfolio built around a position in the stock last year.
We discuss how we tracked the performance of that portfolio and calculated its return.
For current Novo Nordisk shareholders looking to add downside protection, we present a current hedge for the stock.
Novo Nordisk Shares Crash; A Look Back, And A Look Forward
With shares of Novo Nordisk (NYSE:NVO) crashing Friday, after releasing mixed earnings and downbeat guidance related to its Novolog insulin pen, we were reminded of the hedged portfolio we built around the stock last October. In this article, we'll update the performance of that hedged portfolio, and we'll also post a current hedge for investors who own NVO now and are considering adding downside protection.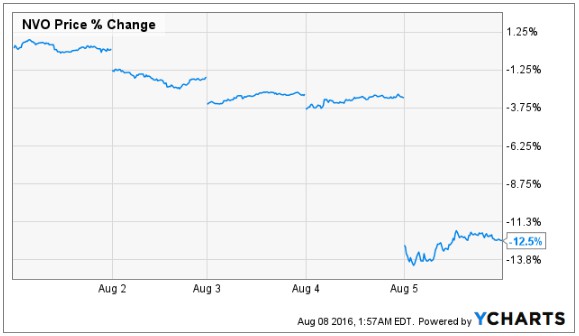 Our October Novo Nordisk Hedged Portfolio
In an article written on October 12th of last year, and published the next day, we presented a hedged portfolio built around a position in Novo Nordisk. The hedged portfolio method is a form of concentrated investing where risk is strictly limited. The process, in broad strokes, is this:
Find securities with promising potential returns (we define potential return as a high-end, bullish estimate of how the security will perform).
Find securities that are relatively inexpensive to hedge.
Buy a handful of securities that score well on the first two criteria; in other words, buy a handful of securities with high potential returns net of their hedging costs (or, ones with high net potential returns).
Hedge them.
In our October article, we went into more detail on each step of that process, showing how a reader could construct such a portfolio himself, and why one might want to include Novo Nordisk. Then, we used the automated hedged portfolio construction tool at the Portfolio Armor website to build a hedged portfolio around a position in NVO for an investor with $80,000 who was unwilling to risk a decline of more than 18% over the next six months. This was the portfolio the tool presented us:
Why Those Particular Securities?
For a user-entered security to fit in a hedged portfolio, its potential return, net of hedging costs has to be positive...
More