Tractor Supply Company TSCO has been displaying an impressive performance of late, as evident from its recent quarterly results, which in turn were backed by the company's commendable growth strategies and expansion initiatives which are on track.

This Zacks Rank #3 (Hold) stock's gain of 3.2% in the last six months has almost been in line with the Zacks categorized Retail – Miscellaneous/Diversified industry.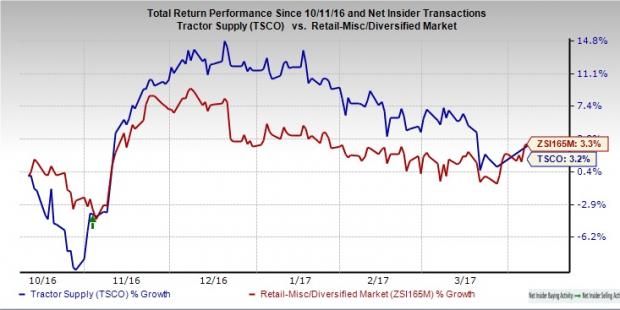 Coming to Tractor Supply's growth initiatives, the company has been well on track with the expansion of its store base and incorporation of technological advancements to induce traffic and in turn, drive the top line. The company leverages an extensive network of stores to penetrate into target markets which in turn, enables it to generate healthy sales and gain market share. In this regard, the company recently introduced its 1,600th Tractor Supply store and is committed to attain its long-term domestic store growth target of 2,500 stores.

As for its technological advancement, Tractor Supply launched a new and revamped website, and remains focused on enhancing its omnichannel network, improving IT security throughout the organization and develop its customer relationship marketing. All these initiatives are likely to attract new customers and help the company serve them better.

Further, the company acquired Petsense LLC last year to fortify its presence in the flourishing pet specialty space that remains poised to grow due to the solid pet ownership fashion and owners' growing kindness toward them. We believe this buyout complements the company's existing pets business, which operates under the HomeTown Pet stores banner. Tractor Supply is currently progressing with the integration of Petsense in its operations, and is likely to benefit from Petsense's impressive growth history and network.

Driven by these factors, Tractor Supply posted splendid fourth-quarter 2016 results, wherein both top and bottom lines grew year over year and topped estimates. Notably, this marked the second consecutive earnings beat for the company that hasn't delivered a single miss in the last eleven quarters.

While all these factors bode well for Tractor Supply, the company's seasonal business remains a hurdle, as unseasonable weather may have a material impact on its operational results in the peak selling periods. Further, stiff competition from local, regional and international players as well as volatility in raw material prices remains major threats for the company.

Nonetheless, we believe that the aforementioned growth drivers along with an efficient inventory management should help Tractor Supply combat these obstacles and maintain its robust performance. The rest, however, remains a wait and watch story.

Stocks to Consider

Until then, investors can safely count on better-ranked retail stocks like Big 5 Sporting Goods Corporation BGFV, The Children's Place, Inc. PLCE and The Michaels Companies, Inc. MIK. While Big 5 Sporting and Children's Place sport a Zacks Rank #1 (Strong Buy) each, Michaels Companies currently carries a Zacks Rank #2 (Buy). You can see the complete list of today's Zacks #1 Rank stocks here.

Big 5 Sporting, with long-term earnings per share growth rate of 12%, has delivered positive earnings surprise in the last three quarters.

Children's Place has an average positive earnings surprise of 39% in the trailing four quarters. The stock has a long-term growth rate of 8%.

Michaels Companies has a long-term growth rate of 16%. Also, the company flaunts a VGM Score of 'A'.

Zacks' Hidden Trades

While we share many recommendations and ideas with the public, certain moves are hidden from everyone but selected members of our portfolio services. Would you like to peek behind the curtain today and view them?

Starting now, for the next month, I invite you to follow all Zacks' private buys and sells in real time from value to momentum...from stocks under $10 to ETF to option movers...from insider trades to companies that are about to report positive earnings surprises (we've called them with 80%+ accuracy). You can even look inside portfolios so exclusive that they are normally closed to new investors.
Click here for Zacks' secret trade>>
Want the latest recommendations from Zacks Investment Research? Today, you can download 7 Best Stocks for the Next 30 Days.
Click to get this free report
Children's Place, Inc. (The) (PLCE): Free Stock Analysis Report
Tractor Supply Company (TSCO): Free Stock Analysis Report
Big 5 Sporting Goods Corporation (BGFV): Free Stock Analysis Report
The Michaels Companies, Inc. (MIK): Free Stock Analysis Report
To read this article on Zacks.com click here.
Zacks Investment Research