The S&P500 reflects the risk-on mood during this 3/28 Friday US session. Traders in early NY trading pushed the S&P 500 above 1855 intra-day pivot.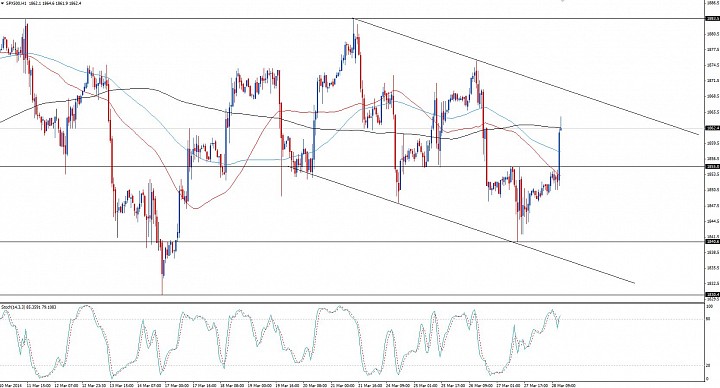 (S&P500 1H chart)
But we have seen this a few times in the past couple of weeks without the rally extending much.
The S&P500 in February was simply bullish, but it has shifted sideways in March. (Look at the 4H chart below). The rally today therefore could easily be in the context of a sideways market, and therefore be limited.
the 1H stochastic is already over 80, so an intra-day downswing can be expected especially if the rally is rejected by the falling channel. If the 4H stochastic is also above 80, and price is near the consolidation high, consider a possible bearish attempt.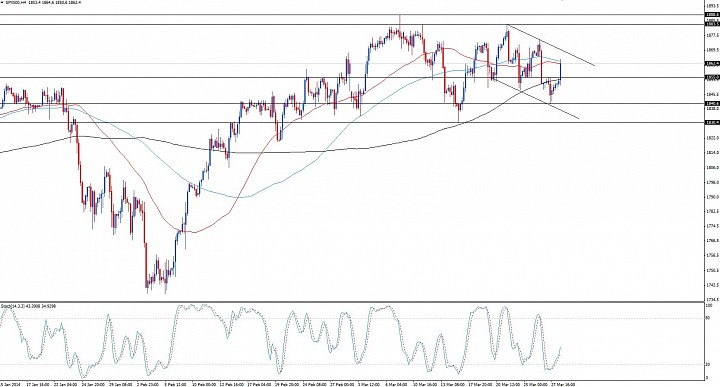 The 4H chart shows that Feb-rally, and the March-consolidation. A break below 1830 would be needed to show topping and introduce a bearish outlook. For now, the overall mode is sideways, with a slight bullish bias from a prevailing trend.