On Friday, January 5th, Constellation (STZ) will release its third quarter earnings results after the bell. The company is a Zacks Rank 2 (Buy), and have a Value, Growth, and Momentum score of B.
Dave will look at Constellation's past earnings, take a look at what is currently going on with the company, and give us his thoughts on their upcoming earnings announcement.
Furthermore, Dave will uncover some potential options trades for investors looking to make a play on Constellation ahead of earnings.
Constellation in Focus
Constellation Brands is a leading producer and marketer of beverage alcohol brands, with a broad portfolio across the wine, spirits and imported beer categories and operations in the U.S., Canada, Mexico, New Zealand and Italy. The company's major wine and spirts brands include Robert Mondavi, Clos Du Bois, Kim Crawford, SVEKDKA Vodka, and Casa Noble Tequila. Constellation Brands is based in Victor, New York.
Constellation is expected to report earnings at per share according to the Zacks Consensus Estimate. Last quarter they beat earnings expectations by 14.35%. They reported earnings at $2.47per share, beating their estimate of $2.16. They have an average earnings surprise of 13.63% over the last 4 quarters.
Constellation Brands Inc Price, Consensus and EPS Surprise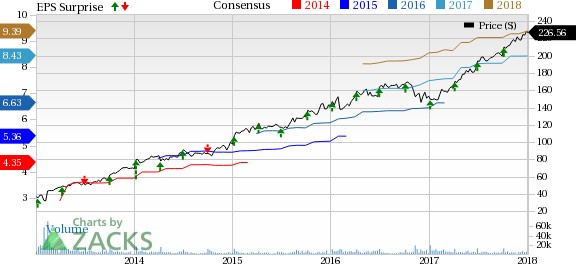 Constellation Brands Inc Price, Consensus and EPS Surprise | Constellation Brands Inc Quote
Bottom Line
How should investors play Constellation ahead of their earnings report? For insights on the best options trades, then tune in at 1:00pm CST today to see David's thoughts.

The Best & Worst of Zacks

Today you are invited to download the full, up-to-the-minute list of 220 Zacks Rank #1 "Strong Buys" free of charge. From 1988 through 2015 this list has averaged a stellar gain of +26% per year. Plus, you may download 220 Zacks Rank #5 "Strong Sells." Even though this list holds many stocks that seem to be solid, it has historically performed 11X worse than the market. See these critical buys and sells free >>
Want the latest recommendations from Zacks Investment Research? Today, you can download 7 Best Stocks for the Next 30 Days.
Click to get this free report
Constellation Brands Inc (STZ): Free Stock Analysis Report
To read this article on Zacks.com click here.
Zacks Investment Research