LendingClub (LC) trading down today after the huge gains on Monday isn't that surprising. Some of the negative sentiment on the online lending platform is surprising though. The stock is down to around $5.80 now while trading closer to $8 before the collapse after the CEO was let go for questionable decisions. 
As I highlighted here, the Q3 results were a game changer. The big banks are back investing on the platform and LendingClub is back into growth mode. The sentiment on StockTwits though turned significantly more bearish on the stock gains.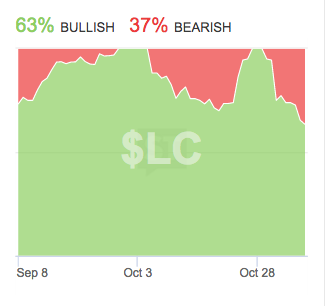 At the same time, Canaccord Genuity's Michael Graham took his price target up to $7 from down at $1. Typical of the analyst community though, they want LendingClub to guide towards '17 growth before turning bullish on the stock. LendingClub would be significantly higher once the company does that so investors need to use all the investors doubting the turnaround as an opportunity to buy the stock at still depressed value. 
As well, some opportunities exist in OnDeck Capital (ONDK) as the stock was crushed on decent Q3 results. 
Disclosure: Long LC