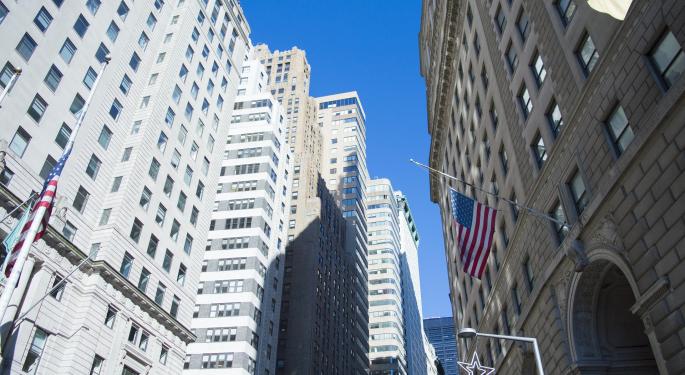 Below is a tool used by the Benzinga News Desk each trading day -- it's a look at everything happening in the market, in five minutes. Apply for daily AM access by clicking here or email minutes@benzinga.com.
Macro Focus
Futures for the Dow Jones Industrial Average climbed 31 points to 18,467.00, while the Standard & Poor's 500 index futures rose 3.75 points to 2,162.25. Futures for the Nasdaq 100 index gained 6.75 points to 4,645.00. On Thursday, the Dow snapped a nine-session string of gains and ended a streak of all-time closing highs at seven. The Dow's winning streak was the longest since March 2013.
Oil prices traded mixed as Brent crude futures rose 0.13 percent to trade at $46.26 per barrel, while US WTI crude futures also dropped 0.04 percent to trade at $44.73 a barrel. Prospects for Libyan supply added to this week's concerns that a glut of oil products will cut demand for crude by refiners.
The manufacturing PMI for July is schedule for release at 9:45 a.m. ET.
The Baker Hughes North American rig count for the latest week will be released at 1:00 p.m. ET.
BZ News Desk Focus
GE GE Reports Q2 EPS $0.39 vs $0.46 Est., Sales $33.49B vs $31.8B Est.
Pandora P Reports Q2 EPS $(0.12) vs. Est. $(0.16), Rev. $343.02M vs. Est. $351.6M
Starbucks SBUX Reports Q3 EPS $0.49 vs. Est. $0.49, Rev. $5.2B vs. Est. $5.3B
Honeywell HON Reports Q2 EPS $1.66 vs $1.64 Est., Sales $9.991B vs $10.13B Est.
Visa V Reports Q3 Adj. EPS $0.69 vs $0.66 Est., Sales $3.63B vs $3.65B Est.
PayPal PYPL Reports Q2 Adj. EPS $0.36, Inline, Sales $2.65B vs $2.6B Est.
Chipotle CMG Reports Q2 EPS $0.87 vs $0.93 Est., Sales $998.4M vs $1.05B Est.
Sell-Side's Most Noteworthy Calls
Raymond James downgraded Twitter TWTR to Market Perform.
BTIG downgraded Facebook FB to Neutral.
Atlantic Equities upgraded Viacom VIAB to Neutral.
CLSA upgraded Sherwin-Williams SHW to Buy.
Piper Jaffray initiates coverage on Nevro NVRO at Overweight.
Deal Talk
Bloomberg reported that Verizon VZ is the leading bidder to acquire Yahoo's YHOO core assets.
Exxon Mobil XOM will buy InterOil IOC for $45 per share, or more than $2.5 billion, plus a cash payment based on Elk-Antelope resource size.
Medivation MDVN shares spiked as high as $63.23 on Thursday following unconfirmed market chatter of a potential offer from Pfizer PFE. The pharma giant has been mentioned as a possible rival bidder to Sanofi SNY, whose $58 per share cash offer and a CVR for Talazoparib sales, worth up to $3 per share, was rejected by Medivation's Board.
In The News
Donald Trump was greeted with a warm welcome as he took the stage at the Republican National Convention. "Friends, delegates, and fellow Americans, I humbly and gratefully accept your nomination for the presidency of the United States," Trump said to the audience.
Florida health officials said Thursday they were investigating a second possible case of Zika spread locally, and Brazilian scientists said they feared they may have found a second species of mosquito can transmit the virus.
Blogosphere
"The web spreads the evidence like a virus and minds are changed one by one. Belief in the old ways falters month after month," says the Reformed Broker. "A mass awareness of the effects of fees, taxes and trading costs begins to take center stage when decisions are being made."
Trending
VRX CMG GE PYPL AVXL P T V SBUX KONE TWTR AZN PFPT LUV GOOG WHR
In a 10-minute segment delivered on the "Late Show," Jon Stewart interwove his acidic straight-to-camera delivery with edited television clips, fiercely criticizing Fox News host Sean Hannity and other personalities who he says have bent over backward to support the Republican presidential nominee, Donald Trump.
Taking aim at broadcasters and commentators who say they want their country back, Stewart said: "You feel that you're this country's rightful owners. There's only one problem with that. This country isn't yours. You don't own it. It never was."
© 2016 Benzinga.com. Benzinga does not provide investment advice. All rights reserved.