Snap Inc. (SNAP) just released its second-quarter financial results, posting a loss of 36 cents per share and revenues of $181 million. Currently, SNAP is a Zacks Rank #4 (Sell) and is down 9.95% to $12.40 per share in trading shortly after its earnings report was released.
Snap:
Missed earnings estimates. The company posted a loss of 36 cents per share, missing the Zacks Consensus Estimate calling for a loss of 29 cents per share.
Missed revenue estimates. The company saw revenue figures of $181.67 million, missing our consensus estimate of $186.91 million.
Daily active users were up 21% year-over-year to 173 million. Snap added about 7.3 million DAUs in the second quarter—a 4% sequential gain. Average revenue per user was $1.05, which represents growth of 109% year-over-year and 16% quarter-over-quarter.
Hosting costs per DAU were $0.61, up from $0.55 in the prior-year quarter and $0.60 in the first quarter of 2017.
Total costs and expenses climbed to $630.7 million, up significantly from $187.7 million in the year-ago quarter.
Here's a graph that looks at Snap's price performance since its IPO:
Snap Inc. Price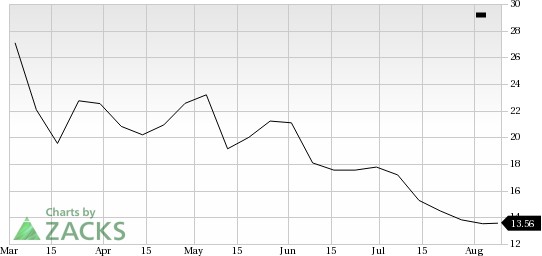 Snap Inc. provides technology and social media services. The Company's principal product, Snapchat, is a camera application that helps people to communicate through short videos and images.
Check back later for our full analysis on Snap's earnings report!
Want more stock market analysis from this author? Make sure to follow @
https://twitter.com/Ryan_McQueeney
on Twitter!
One Simple Trading Idea
Since 1988, the Zacks system has more than doubled the S&P 500 with an average gain of +25% per year. With compounding, rebalancing, and exclusive of fees, it can turn thousands into millions of dollars.
This proven stock-picking system is grounded on a single big idea that can be fortune shaping and life changing. You can apply it to your portfolio starting today.
Want the latest recommendations from Zacks Investment Research? Today, you can download 7 Best Stocks for the Next 30 Days.
Click to get this free report
Snap Inc. (SNAP): Free Stock Analysis Report
To read this article on Zacks.com click here.
Zacks Investment Research