As Microsoft Corporation (NASDAQ:MSFT) releases its latest operating system, Windows users are currently deciding whether to upgrade to the brand new Windows 10. This was a relatively low-key software release from Microsoft, certainly compared to the Windows unveilings of the past. But this in no way reflects the importance of this piece of software for Microsoft, as the success of Windows 10 will be critical for the entire future of the corporation.
So how does Windows 10 match up with the previous Windows 8 version of the software? Well, firstly Microsoft has included some nifty new aspects in this latest operating system, so let's outline these aspects of Windows 10.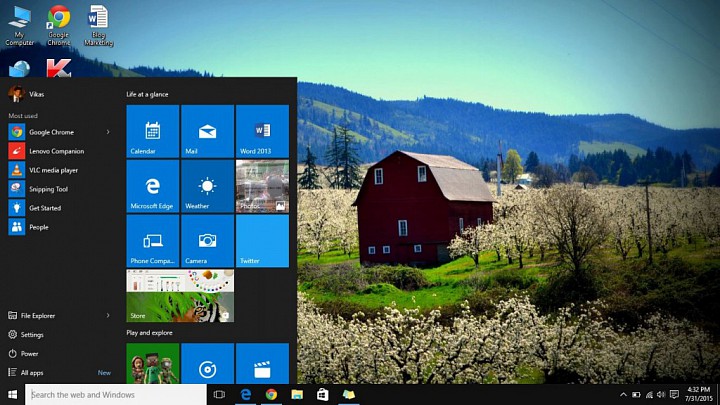 The search tools included in Windows 10 have been significantly upgraded this aspect of the operating system. Microsoft has included machine learning in the search facility based in Windows 10, and this enables the by now infamous Cortana digital assistant to deliver tailored search results that are truly individual to you. This certainly makes searching for information using Windows 10 considerably more convenient and personalized.
Modern apps
Windows 8 forced modern applications to run in full screen mode. This lacks the flexibility that is offered by a full windowing system, and was much criticized at the time. So it is not surprising that Windows 10 has dispensed with this system. All Windows apps now run in familiar resizeable Windows, providing functionality familiar to users of the Windows software.
Productivity
Windows 10 has also added several new features that are intended to improve the professional productivity of the software. Perhaps the most notable of these is Task View, which presents a visual summary up all open apps. This new feature on Windows 10 also makes it possible to create a virtual desktop, without the need to download third-party software that was a requisite previously.
Continuum
After the Windows 8 interface was slated critically, it would have been easy for Microsoft to dispense with it completely. Instead, the software giant has opted for a more versatile approach with Windows 10, which brings up the tablet user interface to appear only when it is required. Continuum offers an intelligent approach to devices that is much welcomed.
Edge browser
A replacement for Internet Explorer is long awaited, not least because most serious Internet users have long since abandoned this...
More