On Friday, ahead of the closing stock rout, we forecast that the biggest risk for anyone staying long over the weekend was a disappointment out of China, where the sellside had gotten so excited that a 50-100bps RRR cut was imminent, that the lack of one would surely send futures sliding.
As noted earlier, everyone is expecting a 50-100 bps RRR cut this weekend. The risk is there isn't one http://t.co/oU5t45ERWw

— zerohedge (@zerohedge)

https://twitter.com/zerohedge/status/634747409667620865
Sure enough, as we noted earlier today, much to everyone's surprise and disappointment, the PBOC did nothing (for reasons we speculated upon earlier).
Which bring us to this evening's S&P futures, which opened for trading minutes ago, and as expected gapped by over 0.6% after the Chinese disappointment, down 19 points to 1952 and looking quite heavy as several key support level as in the crosshairs.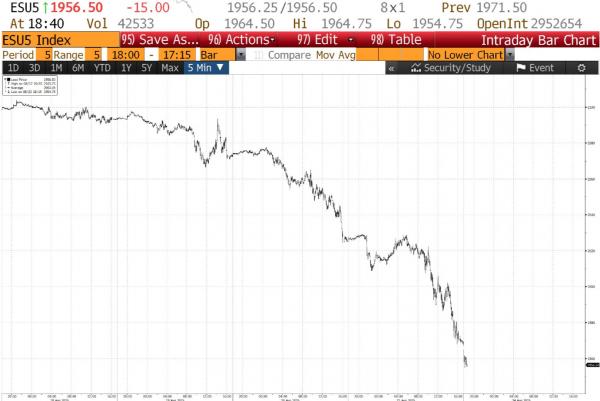 To be sure, the real action in tonight's illiquid market will not be in US futures, at least not until Europe opens, but in China, where it will be up to the "National Team" to prevent a massive rout now that the PBOC has told stocks they are on their own for the time being..
Also keep an eye on crude: after an initial gap lower the black gold is trying to stabilize the drop. Perhaps it is waiting for Gartman to confirm he is still long before crashing below $40.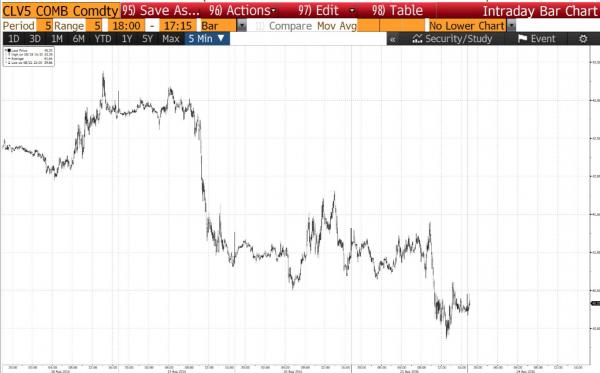 So what happens next? It's clearly anyone's guess so here courtesy of Bloomberg is a selection of quite a few guesses and what some pundits, many of whom predicted smooth sailing unttil year end, are suddenly and very dramatically changing their tune.
"It's going to be pretty deep. ... We're in the camp that this is not yet a big move. It's scary, and those last two day trends look ugly." -- Doug Ramsey, CIO at Leuthold Weeden Capital Management, who sees losses in S&P 500 reaching 20%
"When Europe and China eclipse the U.S. we chug along, but when they're in a down market, that's when the U.S. really dominates. ... From a quality perspective, all the boxes are checked off in the U.S. and that becomes more important to investors again." -- Savita Subramanian, equity strategist at Bank of America, who cites optimism about the biggest U.S. cos.
"There is a relatively more ominous slowdown going on in emerging markets -- and that's what the trade is all about right now." -- Gina C. Martin Adams, equity strategist at Wells Fargo Securities, told New York Times
"These are names that people look at -- if they can run their business well, then the economy is doing well. ... So when Apple misses and sells off hard, it's bolstering that fact that we don't have an equity market to trust." --Larry Weiss, head of U.S. trading at Instinet in New York, speaking about the most popular U.S shares
"People are saying, 'I want out.' ... It is difficult to see the bottom with all these depreciating currencies." -- Ricardo Adrogue, emerging-markets-debt investor at Babson Capital, told New York Times
"People are saying 'I told you so,' but that warning has been in place too long—you would have had to be a superhero to know what would happen." -- Katie Stockton, chief technical strategist at BTIG, commenting on narrow leadership in the bull market to WSJ
"Hopefully, Asian governments don't panic from the current market turmoil and resort to knee-jerk decisions. ... Competitive currency devaluations can become a zero-sum game if all countries resort to it." -- Sandy Mehta, CEO of Hong Kong-based Value Investment Principals
"There's no way the U.S. is going to remain an island with so much turmoil going on around the rest of the world." -- Paul Zemsky, head of multi-asset strategies at Voya Investment Management
"If at the beginning of the year, you told anyone that theFed would be 50/50 about raising rates at their next meeting and the 10-year yield was approaching 2%, they would think you were nuts." -- Antonin Cronin, a Treasury bond trader at Société Générale, told WSJ
"You have to talk about the Fed and the absence of any trigger-style warnings. ... That's a critical reason why everything gets interpreted as supporting the Fed's caution, and that's in direct contrast to the thinking we had just last week." -- Jim Vogel, head of interest-rate strategy at FTN Financial in Memphis, Tennessee
"A nasty storm is probable, not just possible [in countries like Brazil and South Africa]. ... But I do not anticipate a crisis or even very tense moments in Asia. The main reason is that the Asian Crisis of 1997 already cleansed Asia's financial system and Asia's resilience ought to be higher." -- Stephen Jen, co-founder of SLJ Macro Partners