Index of wind, solar and other companies up 20% this year
Rally is fueled by broad mix of factors, from Nevada to China
President Donald Trump took office vowing to revive the coal industry's fortunes. So far, the smart money has been on clean energy.
An index of 40 publicly-traded solar companies, wind-turbine component makers and others that benefit from reduced fossil fuel consumption is up 20 percent this year. That's more than double the S&P 500's 9.8 percent gain. And better than the 8.3 percent rise by an index of leading coal companies.
The eco-friendly stock rally -- which comes as oil and natural gas-focused shares have dipped -- stems from a constellation of factors, including a Nevada law to boost rooftop solar, China's mass-transit policy and optimism that Elon Musk's Tesla Inc. might deliver its Model 3 sedan on time. In short, Trump's pro-fossil fuel agenda hasn't damaged investor support for clean energy.
"Nothing dreadful has happened, and these companies continue to execute," said Jenny Chase, Bloomberg New Energy Finance's lead solar analyst.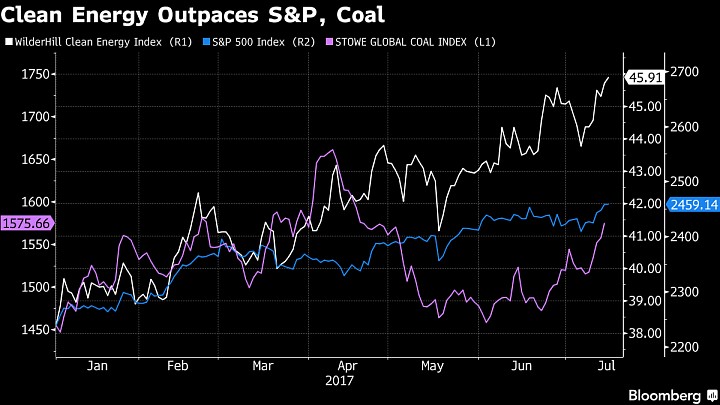 As clean-energy stocks climb, investors have pumped more money into wind and solar. U.S. investments totaled $14.7 billion during...
More