What are you doing to us Carney! Well, a couple of months ago you say you're surprised that markets have not priced in a 2014 rate hike, and the GBP/USD extended an already bullish trend that started in July 2013. Then, in the past month, you say lack of wage growth is a concern. You didn't say it directly, but the tone was that the wage growth issue could cause some uncertainties and thus make a rate hike in 2014 and maybe even early 2015, a bit premature. The GBP/USD slid from its 1.7191 high in July, which is also the 2014-high. It tagged the 200-day SMA last week.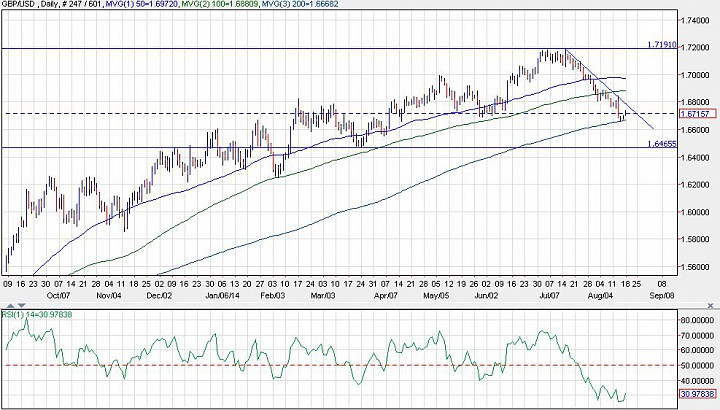 (GBP/USD Daily Chart 8/18)
Then over the weekend, you (Carney) told reporters that he would not have to wait for real wages to turn positive before implementing a rate hike. 

As this week's trading began, GBP/USD popped up from last week's narrow consolidation between 1.6655 and 1.67. Still, this is not enough to signal a bullish reversal, though if price can pull up above 1.68, we might be in the first significant consolidation/bullish correction since the descent from 1.7191.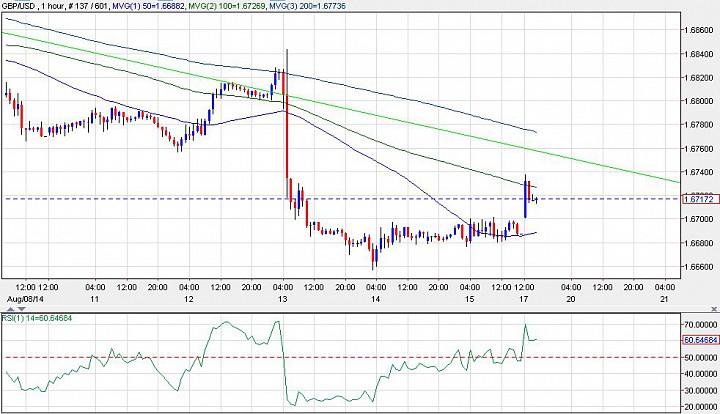 (GBP/USD 1H Chart)

If price can respect 1.67 a few times as support, we might have a mini price bottom from which a short-term bullish correction can develop. But in the short-term, we should first respect the 1.68 level as resistance.